The Volant Fitment issue.
The space between the intake box and the Fender Well (where the stock intake draws its air) is there for a reason. With the flexing of the body and the torque of the motor that space is provided to adjust for the movement of all those components – the problem that may surface by securing the box to the fender is the silicone hose that mounts on the Throttle Body could come loose or the box could break at the modified mounting point. There is truly no benefits to sealing the box to the fender – the reason a gasket is supplied is for the scoop that we are working on to secure to the box making a seal – see attached image of our PowerCore Tundra with Scoop installed."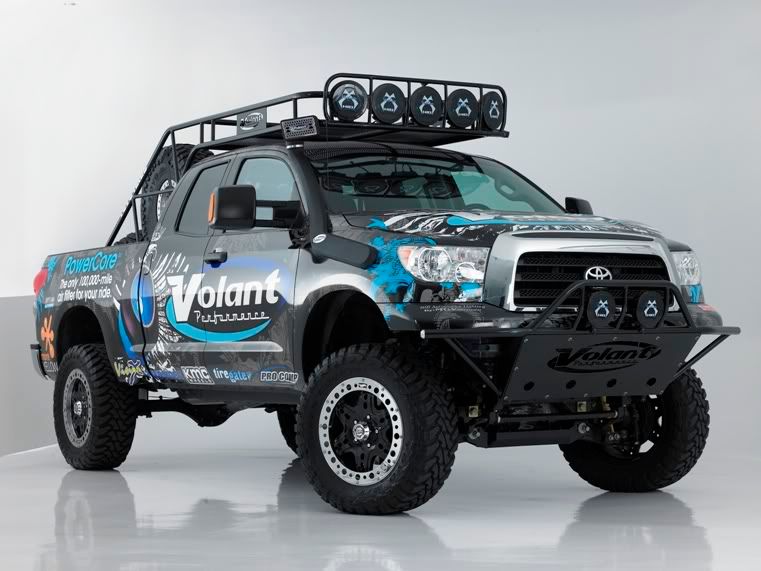 "I saw this image (foam gasket above) – the problem could be two fold – A) the gasket never sealed correctly on the intake box – have that member call me and I'll replace it - B) the intake box is rubbing the inner fender wall – in this case I would adjust the box slightly away for the wall to avoid the rubbing. "
"Just a heads up – the foam gasket like I said is there only for the scoop that we are in the closing stages of offering. The gasket has no real use for those running the air intake. So for the members having issues have them remove the gasket – for those want to have that gasket – have them drop me an email and I'll send out a replacement. And let me reiterate about the gap between the fender and the box – it's there for movement of the motor, by fix mounting the intake to the fender, you could run the risk of the silicone hose breaking loose from the throttle body causing irreversible damage to the injectors and the motor – what little engine heat that could pass through or even get through to that opening will not affect the performance of the kit. For those looking to modify that box by placing a new mounting point – please be aware that if the box was to break or crack etc etc and the cause was the mod, you could risk voiding the warranty. Please be aware that we want you to be happy with our products and Volant has put hundreds of hours developing that system, modifying our kit or any kit could cause problems."
Special Thanks to TonyLop......
Danny's contact info:
Danny Moniz
Vice President / COO
9255 Archibald Ave
Rancho Cucamonga, Ca 91730
Hours: Mon-Thur 9am - 5pm
Closed Fridays
Volant
/
www.volantpowercore.com
909-476-7225 x237