Discussion Starter
·
#1
·
Yesterday I was having a great day when I got off work until I went to pick my wife up from the school she is student teaching at. Once I got to her school I parked in the car rider line like I do everyday which is tight because the parking lot is so small. I was parked behind a woman in a white Tundra, and after the buses left it was time for the kids to come out to the cars in the car rider line. Well the woman in front of me got her kid early and went to leave and smacked right in to my wife's month old 2013 silver corolla S!
Man I was hot, this stupid woman says she looked in her mirrors and didn't see me but obviously she didn't look because I was behind her at an angle ans she should have been able to see me out of her driver side mirror. She backed up so fast I didn't have a chance to blow the horn or through it in reverse, and it hardly even scratched the Tundra. I'm glad I wasn't in my truck because I might have lost my cool.
This was about how far I was parked behind the Tundra
This is the damage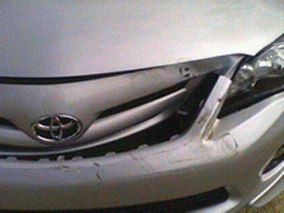 In the end the lady admitted fault and the insurance claim was put into the express lane as Allstate stated and the guy is coming to look at the car soon.