THE LIST
current as of 1/15/2015
Bullet Proof suspension lift (fox shocks/coilovers, atlas springs): $6300
Exhaust (removed catback, running open midpipe) $Free
AMP power steps: $1200
3" rear lift block: $50
Wheels: $2000
Tires: $3500
Bumper: $1200
Winch: $325
Bumper tow hooks: $45
Fender flares: $525
Spare tire carrier with lock $375
Tow mirrors: $260
Odds and ends from Coachbuilder: $265
2" rear receiver d-ring $30
12" drop hitch and ball: $90
16" drop hitch and ball: $180
4.88 gears with master kits $1600
bulletproof rear shock mounts $100
30k lb tow strap, mobile jack and fire extinguisher: $100
Front window heat shield sun blocker: $50
Tundra SR5 grill $200
tundra matching door handles: $135
Line X of bumpers and flares $480
Painted/tinted lights: $220
Vanity plate: $60
PIAA bumper lights: $360
Windows tinted: $80
Tire mount/balancing/beeds. $300
Train horn $600
custom bracket and mount assembly for train horn $200
Gear's install (I pulled the 3rd members. just payed to have set correctly $500)
modified tire carrier: $80
Shock tabs up front: $50
ARB winch cable dampener $38
Coach builder tie rods $165
AFE Pro Dry air filter and charcoal filter delete $57
54" curved led light bar and brackets from doubleds65 $480
(not installed yet)
maintenance and up keep not included. I do 95% of my own work as well so cost in labor is very minimal. Only spent a few bucks on labor on a couple things I needed assistance on
Total cost in parts: $22,425
vvvvvvvvv Back to original build thread vvvvvvvvv
3/8/2012
Well I picked up my loaded up 2012 Crewmax Platinum Tundra yesterday. With in an hour of owning it, I decided to drop another $12,000 in modifications lol.
On its way right now.....
From BulletProof Suspensions:
12" lift with fox rear shocks & fox front coilovers
From 4wheelparts:
22x14 Fuel Octane Black wheels
40x14.50 Interco M16 Mud Tires
Bushwacker Front & Rear rivot style 2" fender flares
From Sparks Toyota:
Matching black paint front grill
Matching black paint mirror caps
Matching black paint door handles
Also picked up:
Can of Nightshades
3m strip wheel (debadging everything)
I still need to pick up a set of Amp Research electric steps, just doing my homework still on the best place to buy them.
Well I'm sure going to have a lot to install here in the next few weeks, time to put those air tools to work
. I'm excited on the out come. All parts should get here in about 2 weeks. I'm not going to post a million pics, since the truck is just stock and we all know what a Tundra looks like lol. Will post many once parts are installed!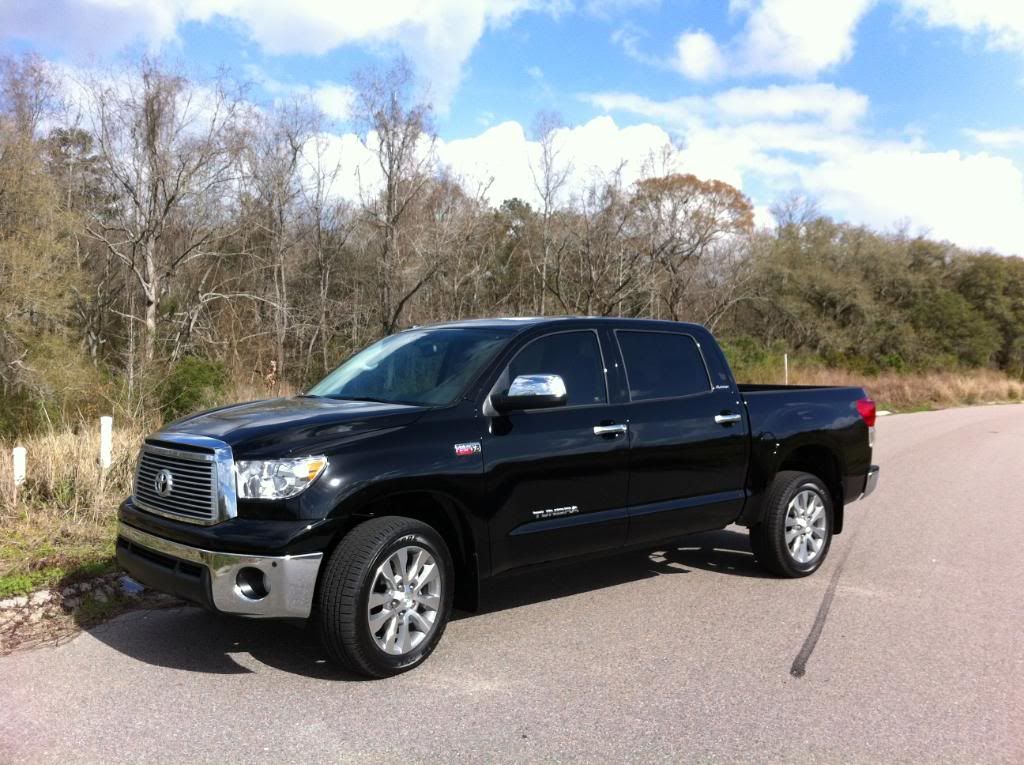 Oh and here's a pic of the 22" wheels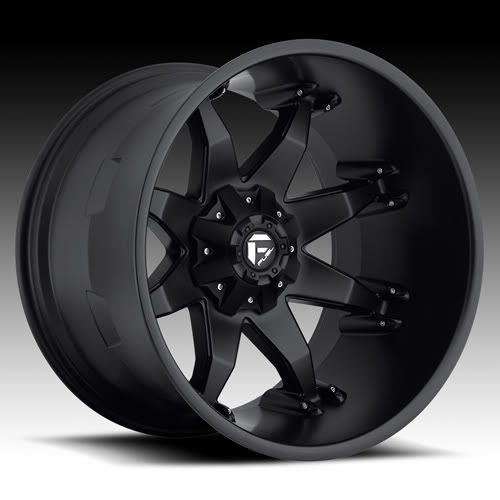 Anyone want to buy a set of Platinum 20" stock wheels with tires? They will have about 300 miles on them. Basically brand new.
UPDATE 3/22/2012
Got my grill in, mirror caps and 3/4 door handles lol. The 4th one was shipped out today and will be here tomorrow. I pulled the toyota symbol and painted it using a plastic flat black paint. 4 coats. The color seems a bit off but the truck is pretty dirty. Needs a bath bad. Debadged it too a few days ago. Bumpers are getting line-x'd next week when I get my fender flares in. I contacted 4wheelparts & bulletproof today and was told by both that all my parts will be arriving Friday next week. EXCITED!! lol Well Here is a pic of the project coming along. Oh and used Night shades on my rear tail lights. It came out like sh*t. Going to a paint place on tuesday where they will tint out all my lights, tails, and cab, along with painting the inside of the headlights flat black. Also, one last thing, I can't figure out how to dissasemble my damn DRL's. I tried removing the purple wire as seen in one post on the light itself, and I cant find the other set thats suppose to be near the kick panel on the drivers side? This confuses me for reason lol.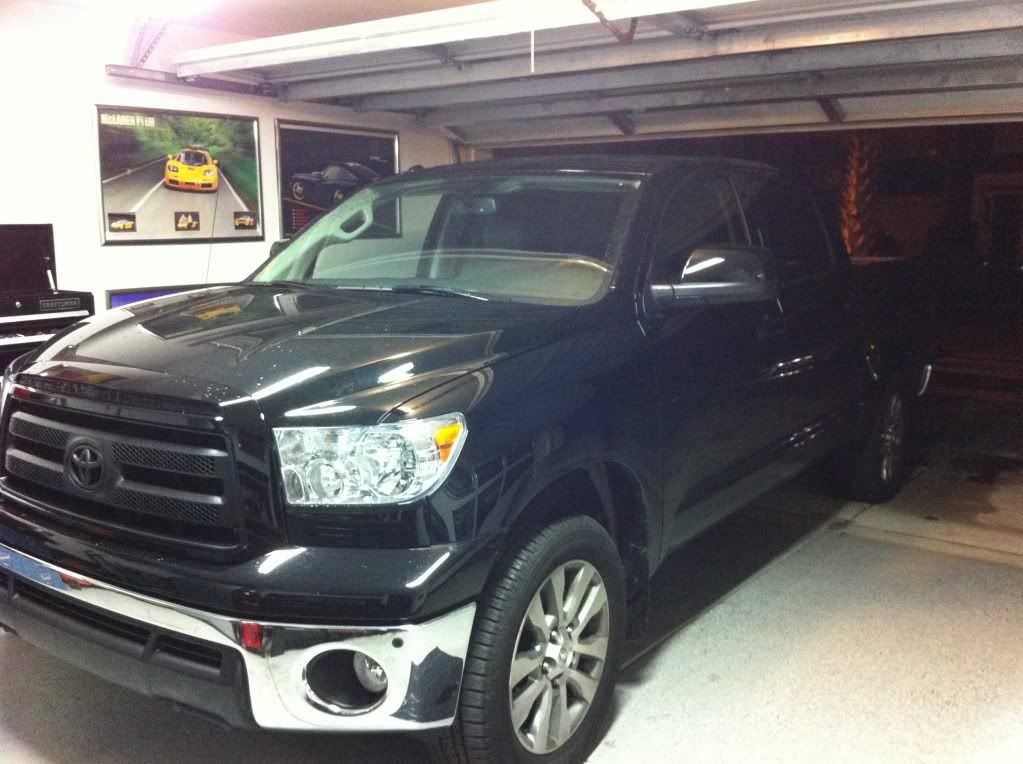 UPDATE 3/27/2012
Wheels, Tires, and Fender Flares are in!!
Had to meet the delivery guy in walmart parking lot near my house since he would not of fit past the round-a-bout in my neighborhood.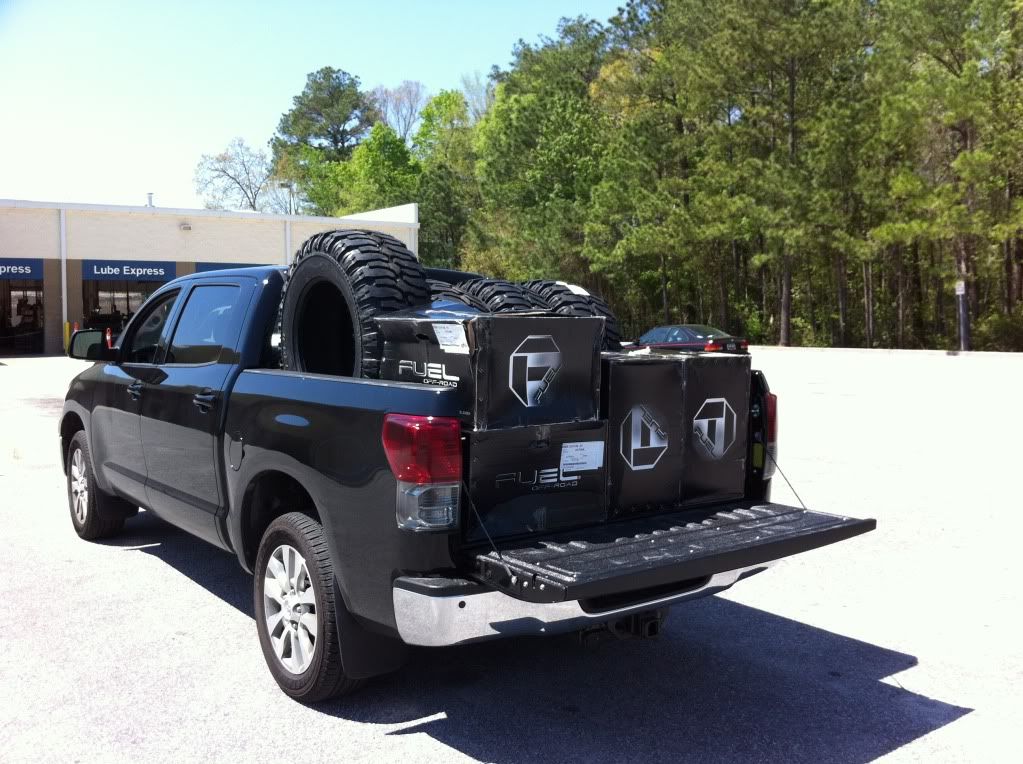 22x14 wheels -76 offset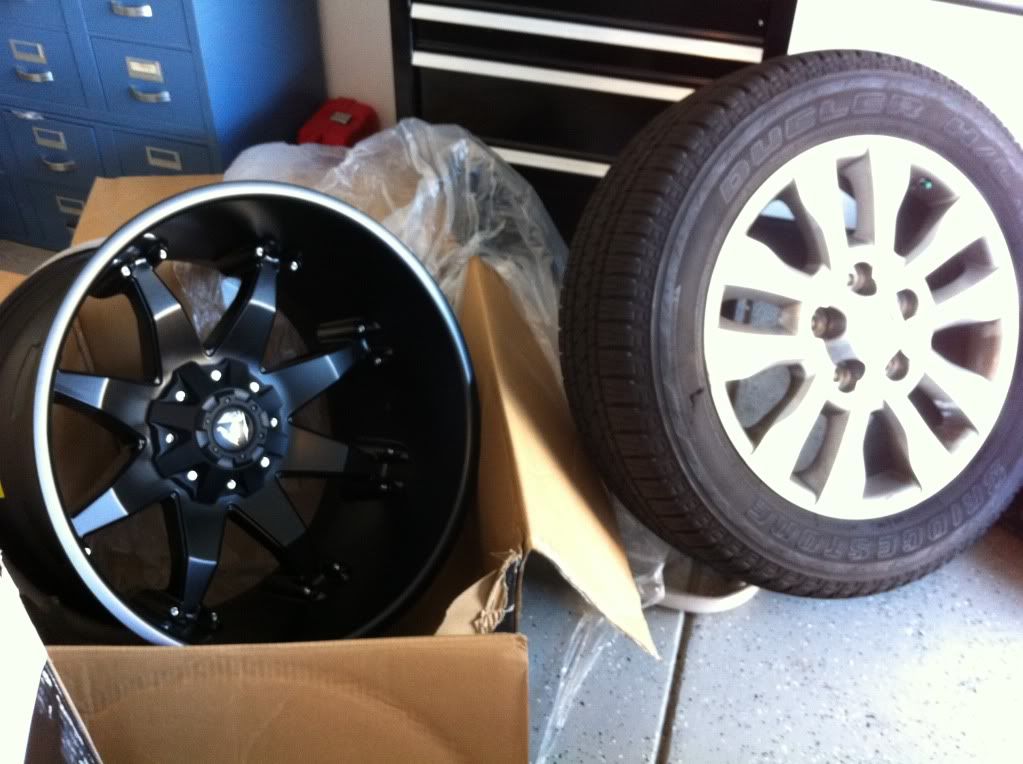 7" of lip!!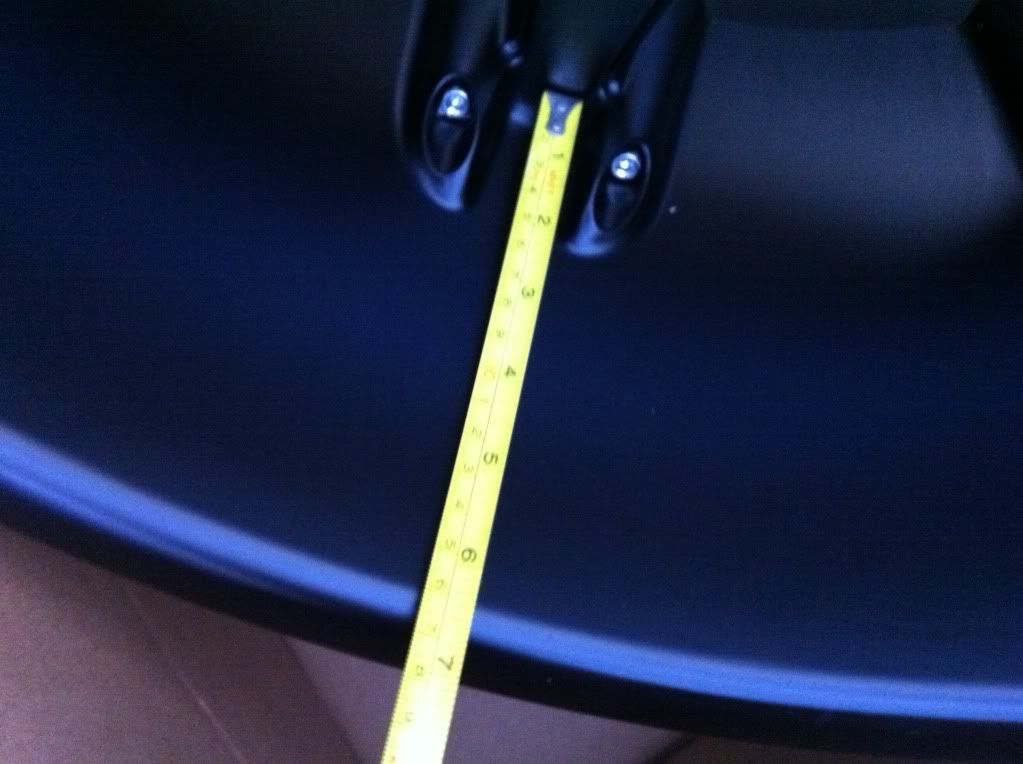 I think they might fit with a little bit of cutting LOL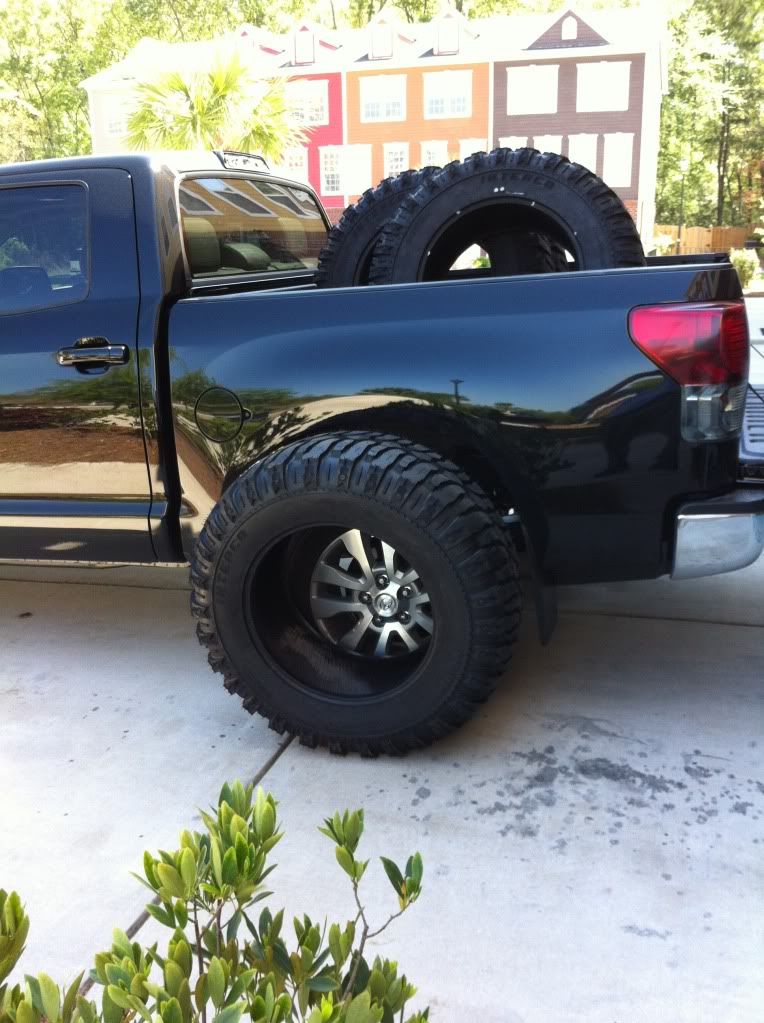 I love how they have 556 rounds on the side of them, considering I shoot the M16 with the Air Force, its fitting lol.
Everything in the garage, you can really see how big the tires are compared to my sisters scooter lol.
UPDATE 3/30/2012
Bumpers are Line-X'd and head lights, tail lights, rear cab light, and fog lights are smoked out. Used a body shop to paint them. They turned out awesome. Didn't have time to put the bumpers on since I had to go to work, but here's a teaser ;-)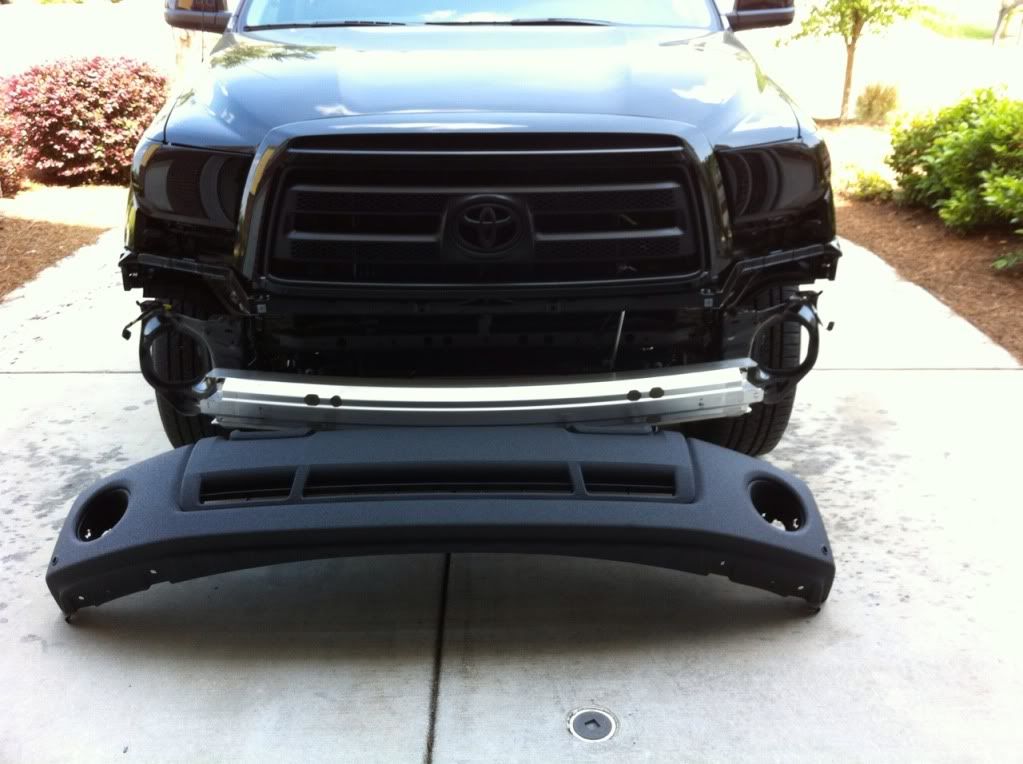 UPDATE 3/31/2012
Bumpers are on and man does it look good! Well atleast I think so lol. With the murdered out lights and fogs, it really flows well. My lift got pushed out for scheduled delivery for monday
. Oh well I'll be starting it right as it gets delivered. Here's pics of what has come so far!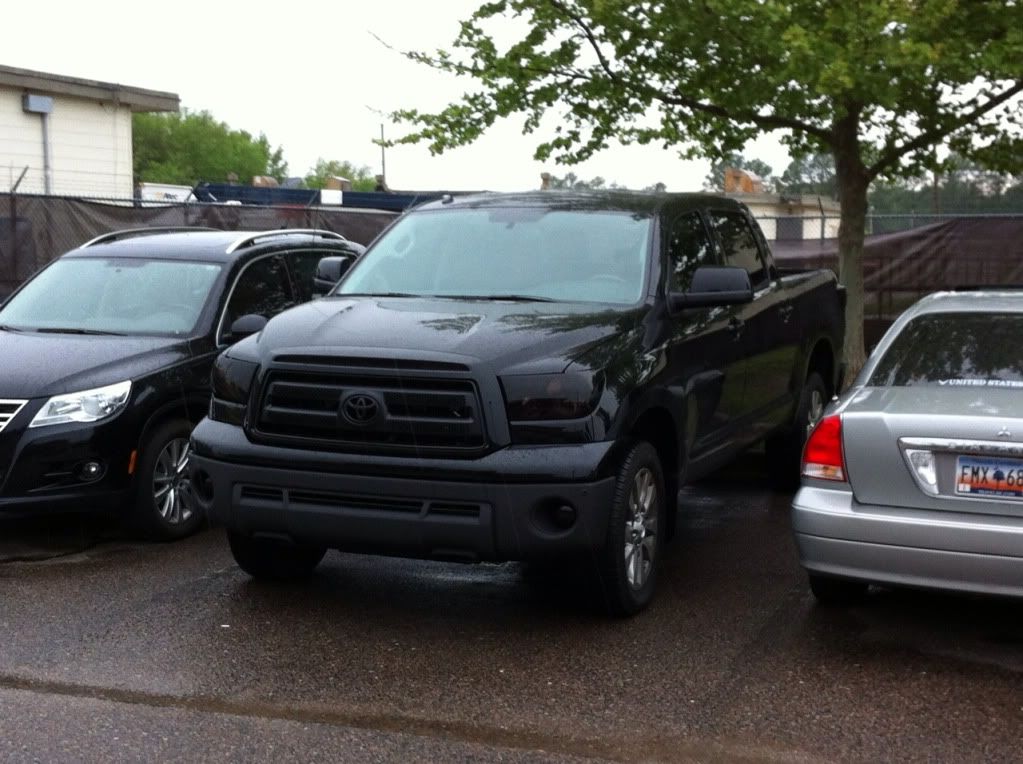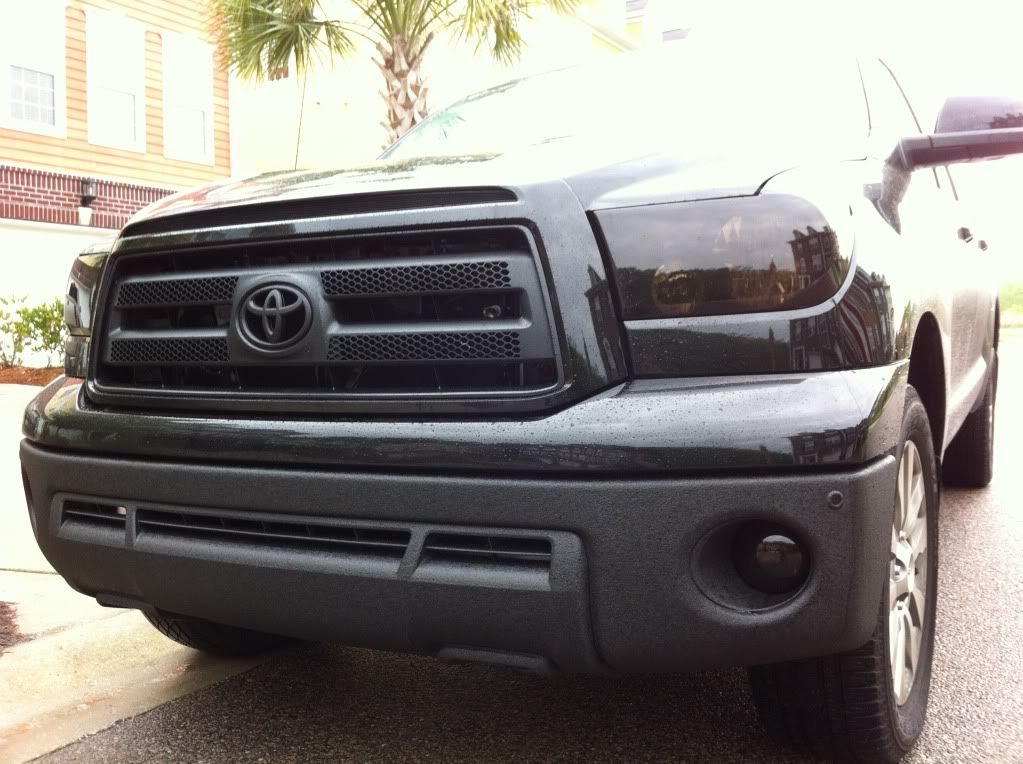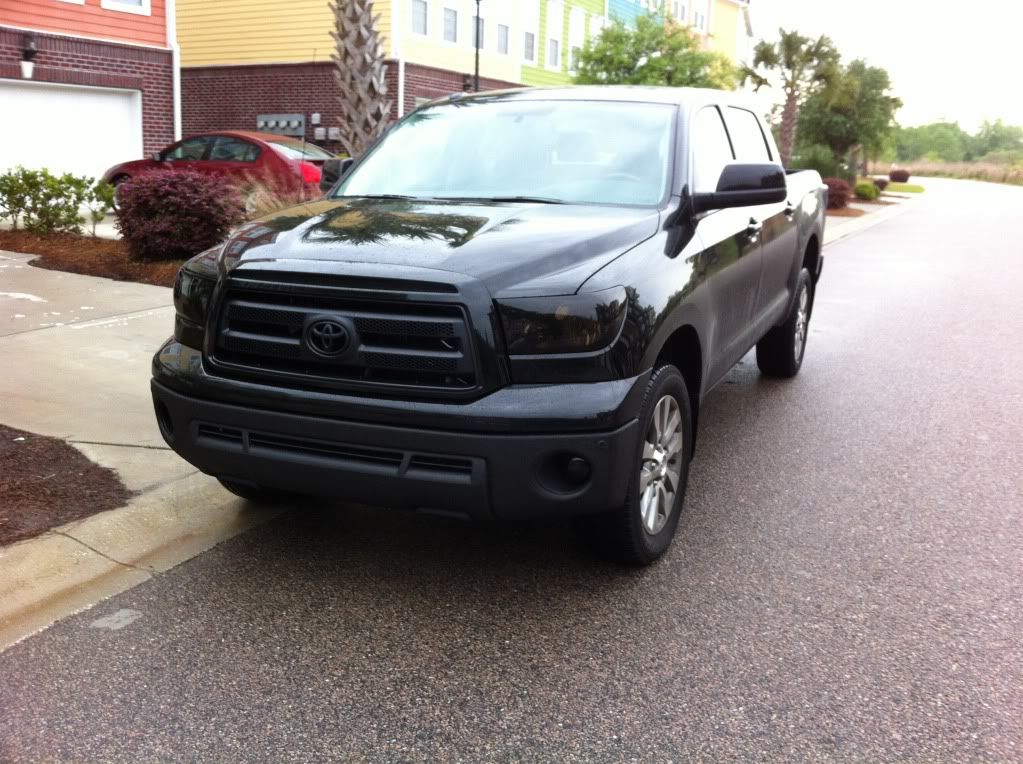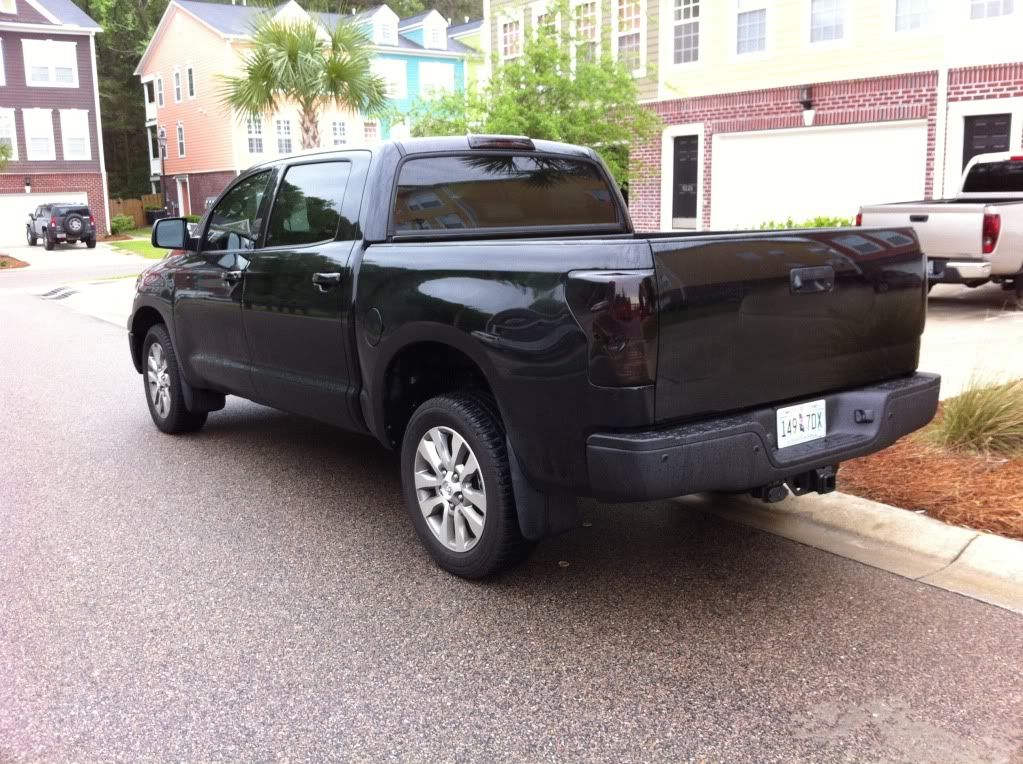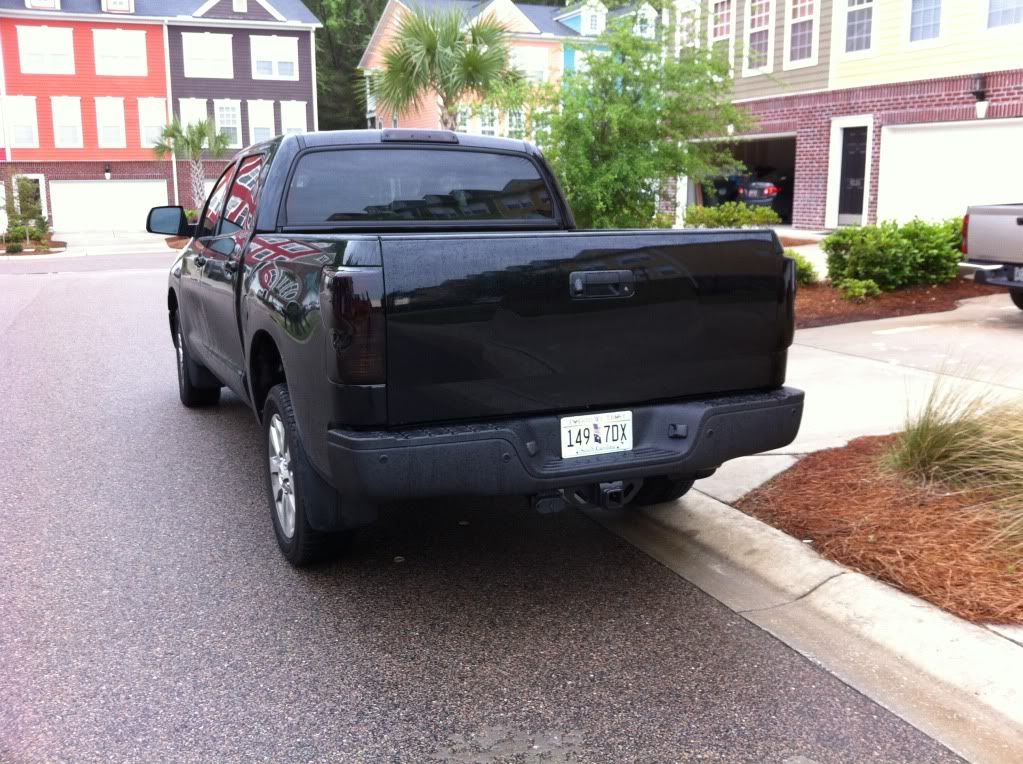 UPDATE 4/5/2012
Fender flares are on! Power steps arrived yesturday, and the shipping company for my BPS lift is delivering it tomorrow! I will start lifting it as soon as it arrives! Personally I feel this truck really needs tires now, since the flares are just a bit too much on these stock 31's. looks a bit silly, but tires will be on this weekend so I'll just tough it out lol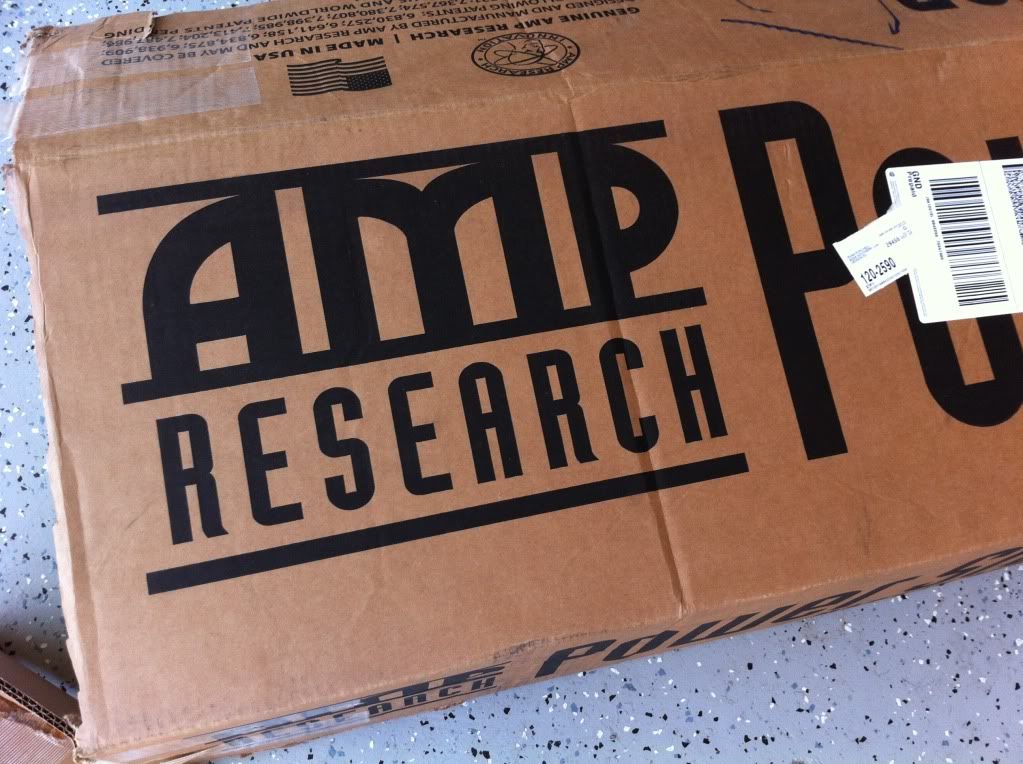 UPDATE 4/8/2012
Far more work then I anticipated, but its coming along. Everything in the front is mounted and tightened minus the brake calipers and sway bar. I went to roll the front out of the garage tonight and come to find out the stock wheels wont mount to the truck because the back space is to deep and it hits the spindle. SO I have to get two of the wheels mounted tomorrow so I can back the trucks hood out from under the garage lol. This is a BIG project and if you dont have very good mechanical know how and some fabrication skills, then have some else install this lol. All weekend spent and I'm hoping maybe by Wed to have it finished. Still gotta order a 3" block and 6 degree wedge to get the rear to sit as high as the front. Well onto the pics:
front diff finally in its new home.
cutting the stock bump stops to clear the new coilovers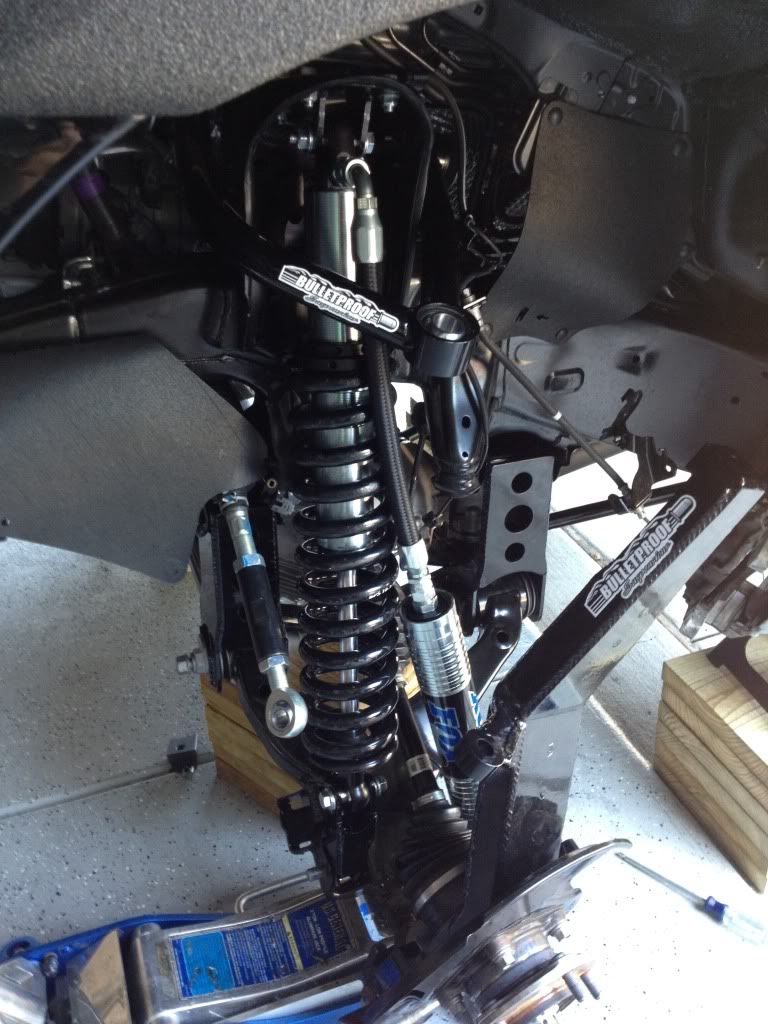 Jacked the truck up to get an idea of how its gonna sit roughly. My friend is 6'1" so yeah this is gonna be a monster lol.
Goal tomorrow is to finish front after work, and then to start the rear on tuesday.
UPDATE 4/9/2012
Front is fully assembled (minus the sway bar). Wheels and tires are mounted up front. About time!! lol. Starting the rear tomorrow, looks much easier. Had to order a 3" block with a 6 degree wedge built in for the rear so it doesn't sag from rough country. 2 day'd it to be here wed.
I know it's a dark photo but it's 11pm people cut me some slack lol. My buddy is 6'3 and he's barley taller then the hood and the rear isnt even lifted yet lol. Onto the teaser pic!!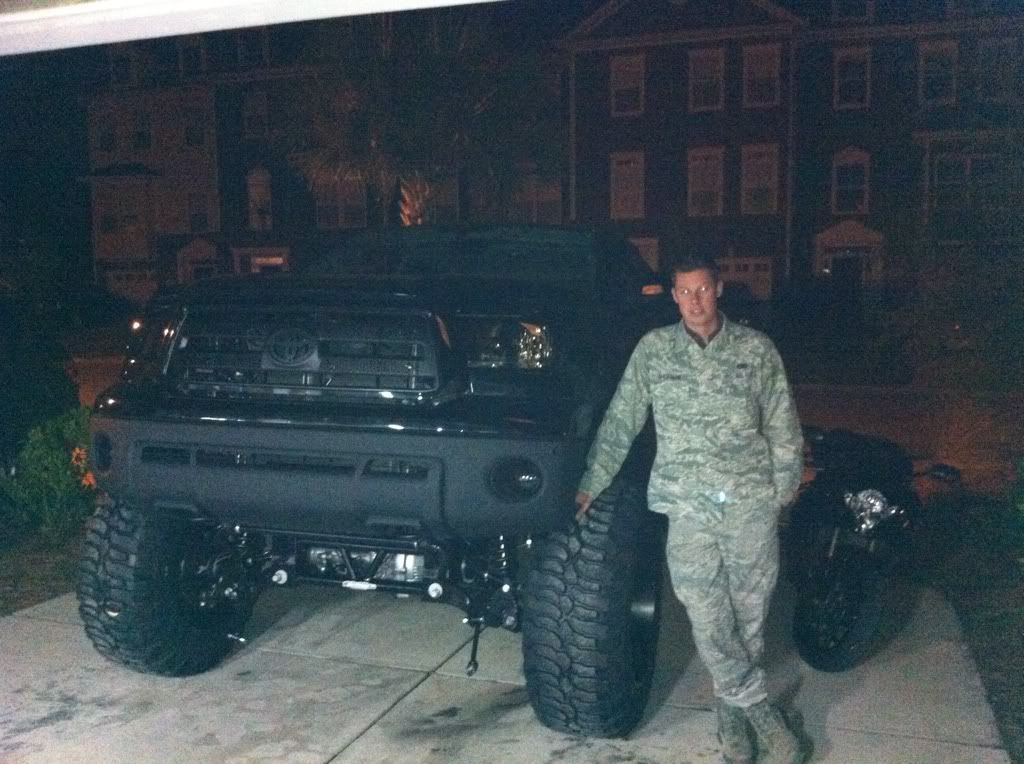 UPDATE 4/13/2012
It's done!!! 3" rough country blocks installed. More pics to come!! 50 man hours from start to finish lol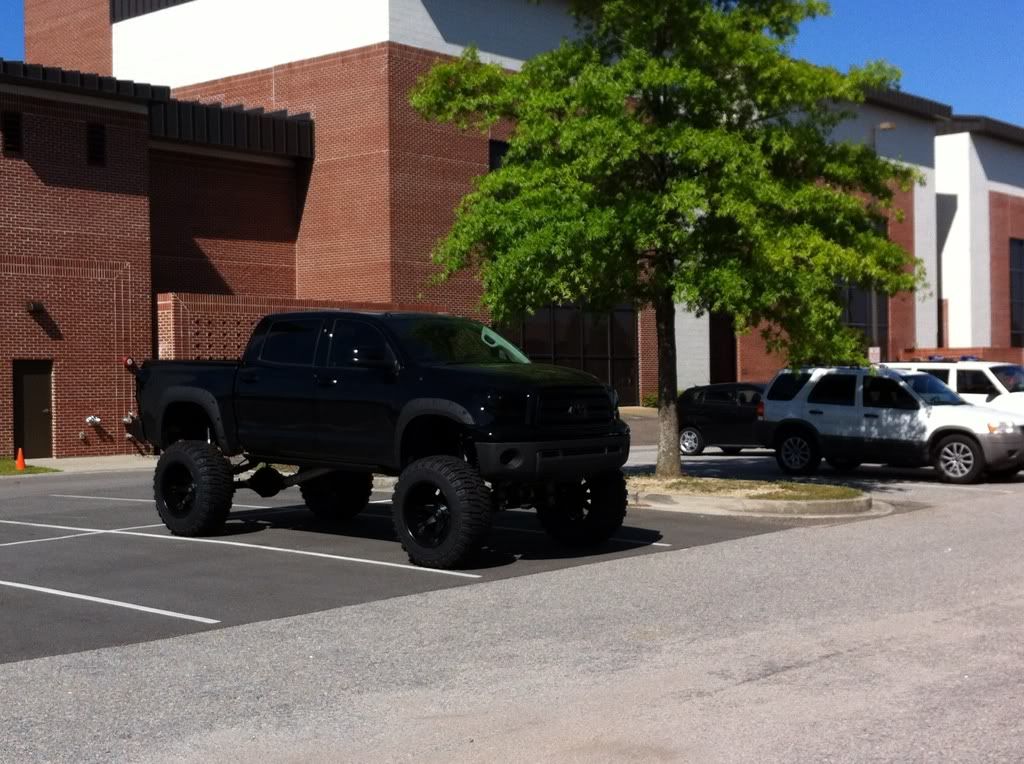 UPDATE 4/17/2012
. More pics as promised!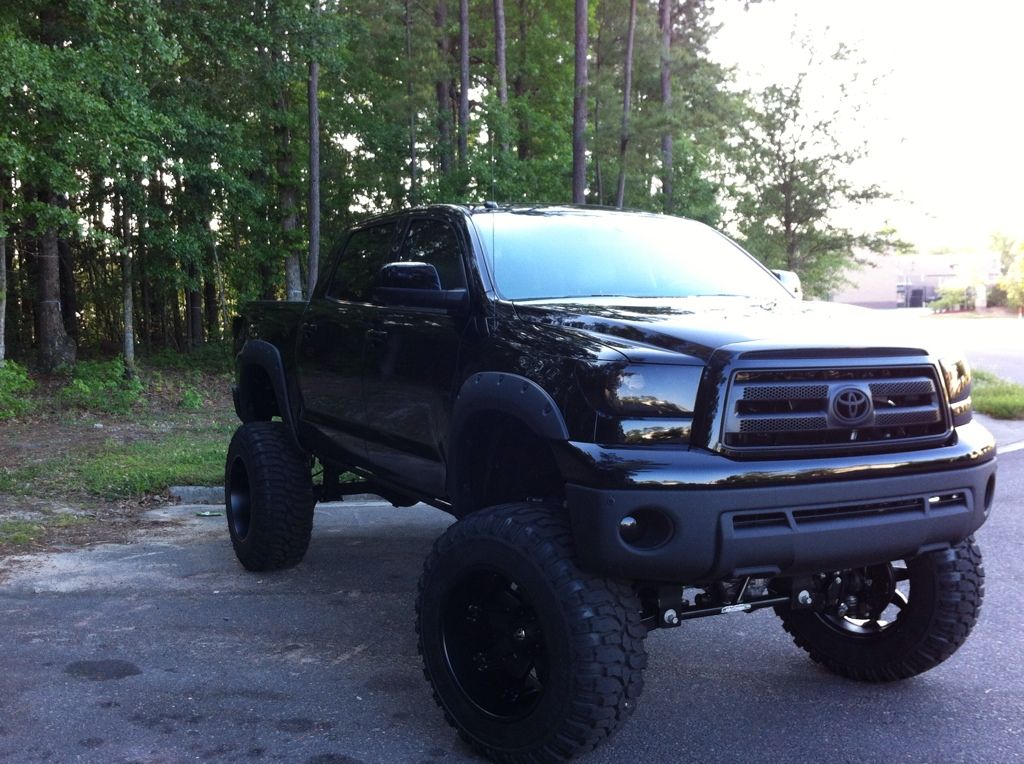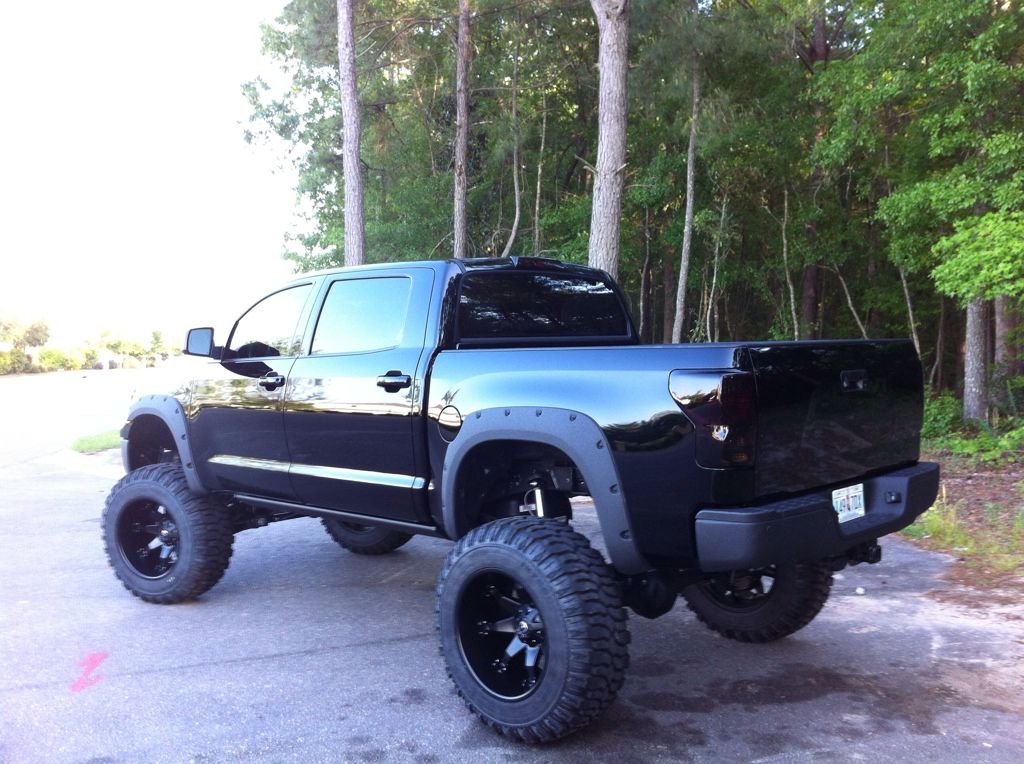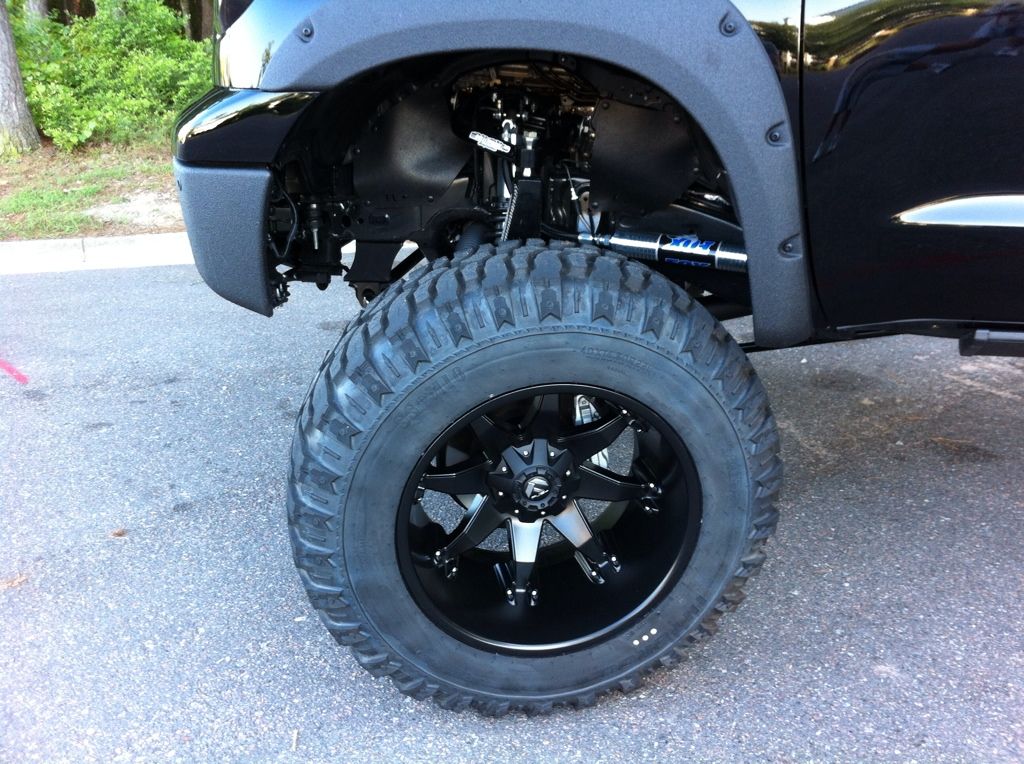 UPDATE 4/26/2012
My new license plates came in! lol
UPDATE 5/12/2012
Tundra ART!!!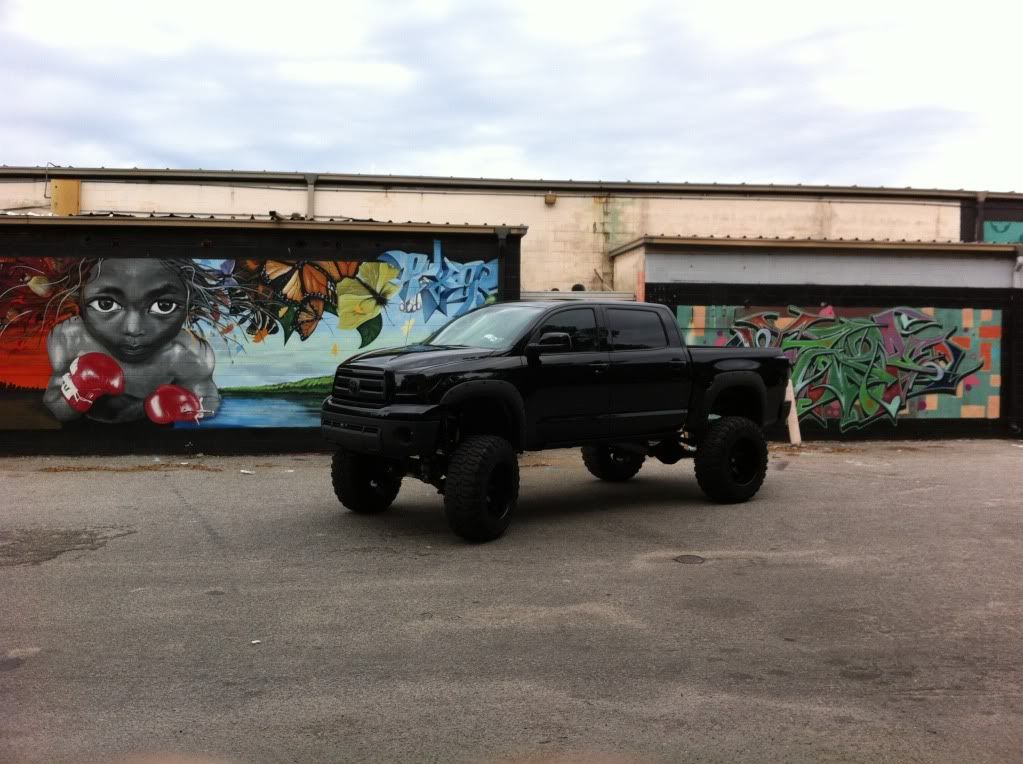 UPDATE 5/17/2013
Been a minute since I bought anything for the truck so last week I purchased a nFab tire carrier, another matching 22x14 fuel octane wheel and a set of 5 40x15.50x22 nitto mud grapplers. Tire carrier came in yesterday. No wheel and tire to put in it yet till the UPS guy drops it off lol.
Mounts to the factory bed rails and is a perfect fit and finish. Very nice product. Holds up to a 40" so I barley made it lol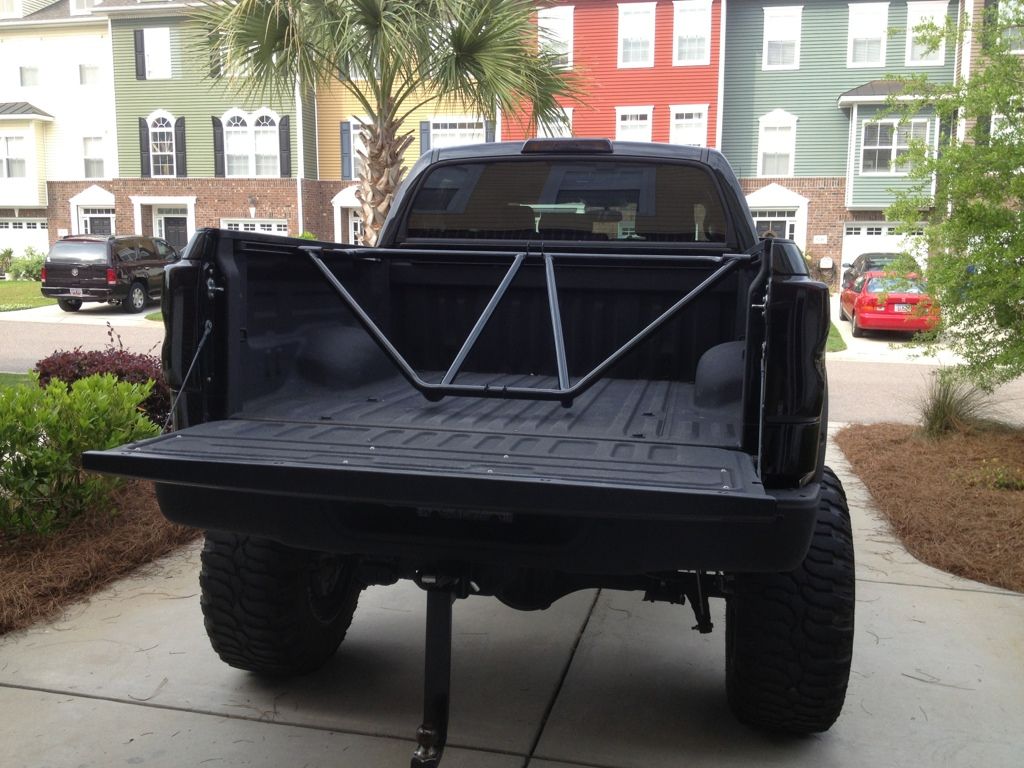 UPDATE 5/28/2013
EVEN BIGGER (well wider)! NEW 40x15.50x22 NITTO MUD GRAPPLERS!
Full size matching spare mounted now too! I measured my old tires and they actually had more tread than I thought. 13/32nd's on two and the other two are 15/32nd's. slight trimming done to front bumper and rear front quarter panel and no more rubbing. Actual width of these are 16.30". WIIIIDDDEEERRRR is better lol.
Weight of ONE of these tires, just the tire
Weight of wheel and tire mounted and balanced = 174lbs a piece LOLOL.
The GF standing next to one of the tires. Weighs more then her lol.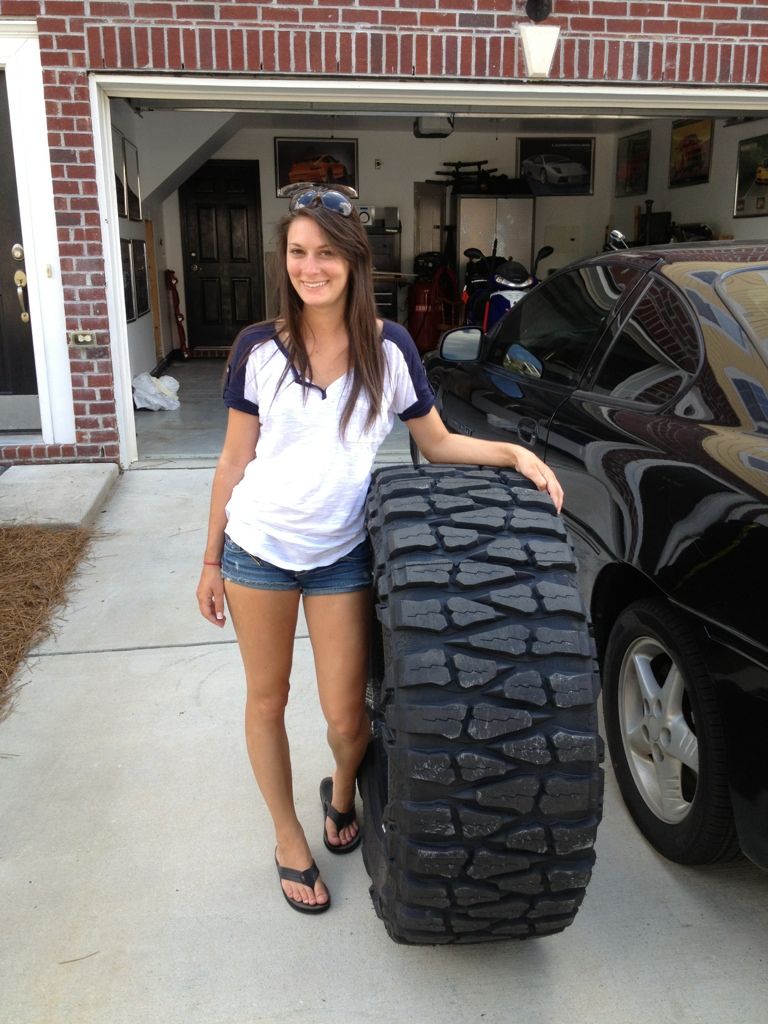 Going to get the new meats put on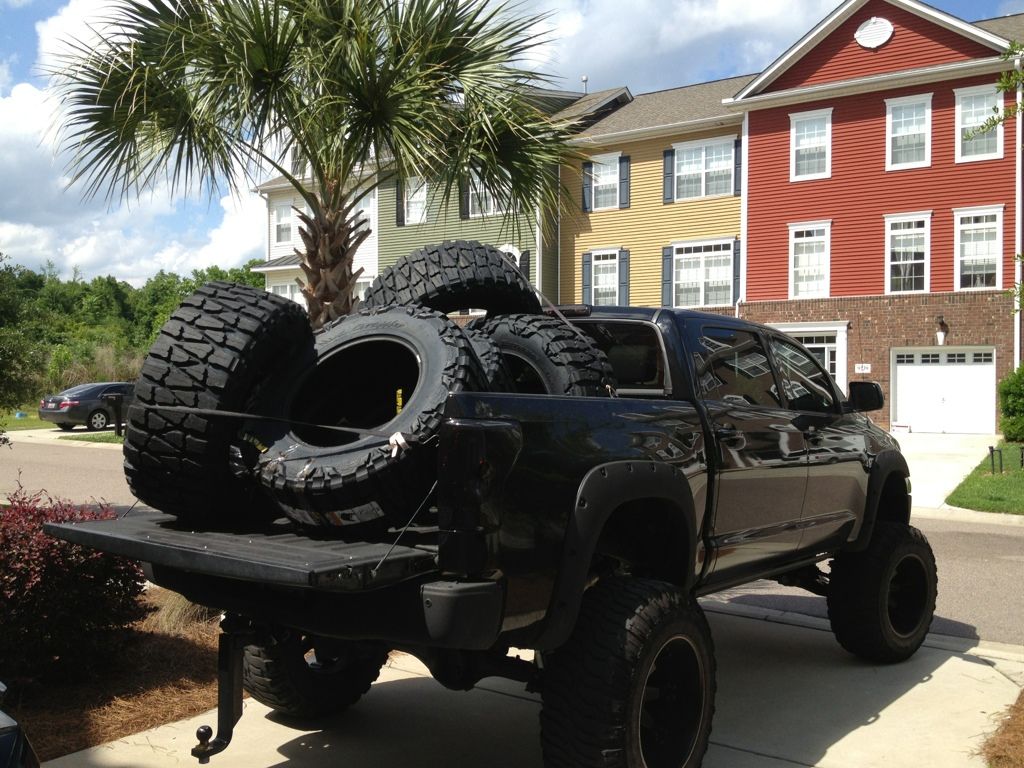 Mounted and balanced before i headed out to the water for Memorial Day weekend a few days ago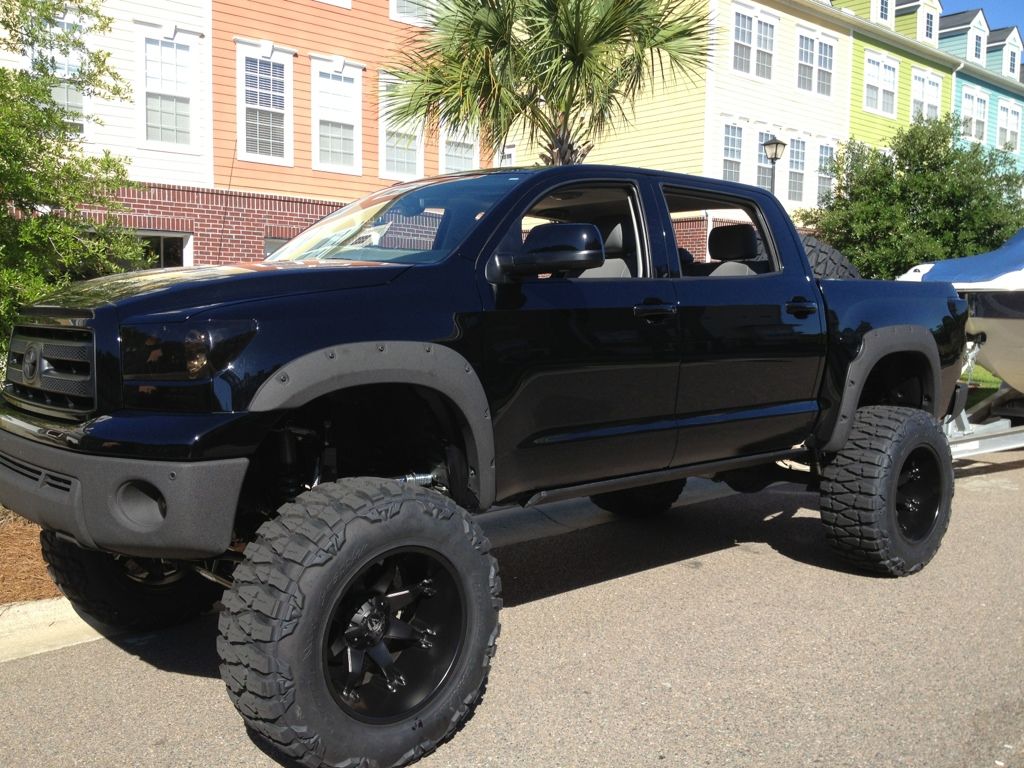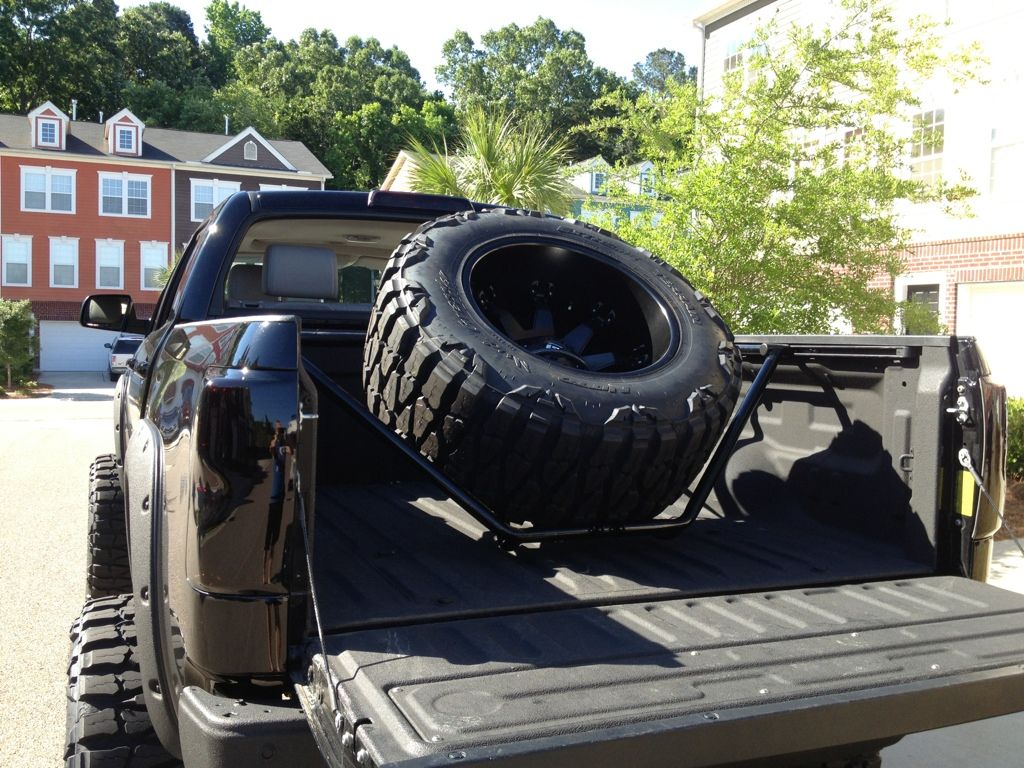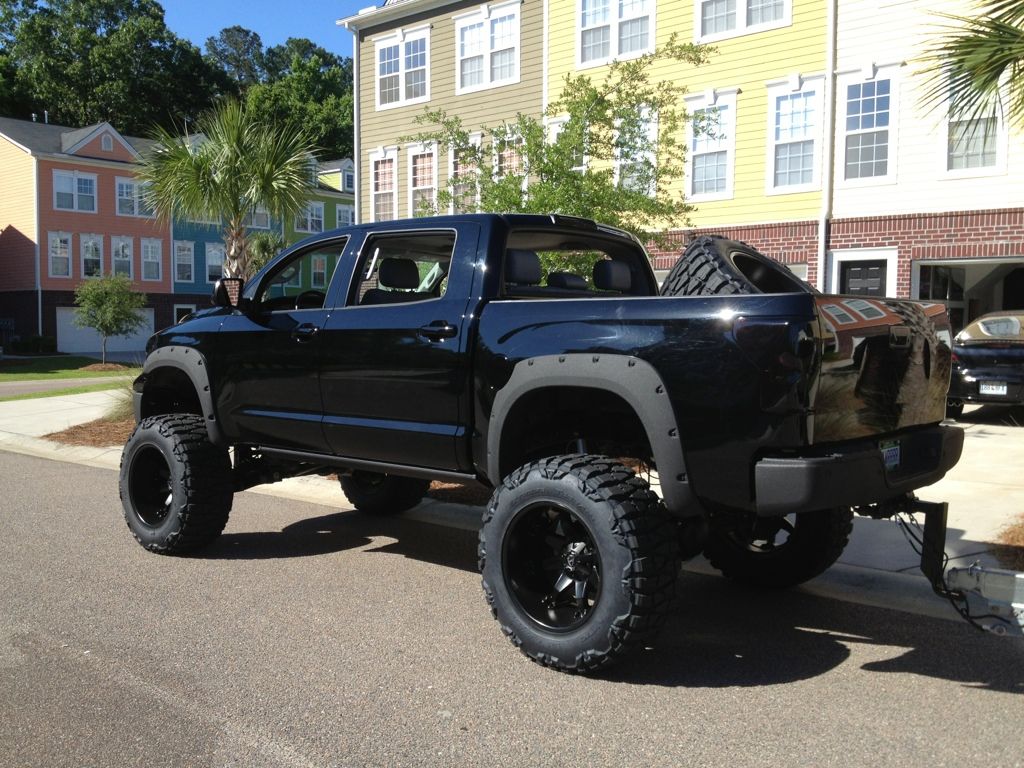 Oh, I also named the boat this past week (old tires in this shot)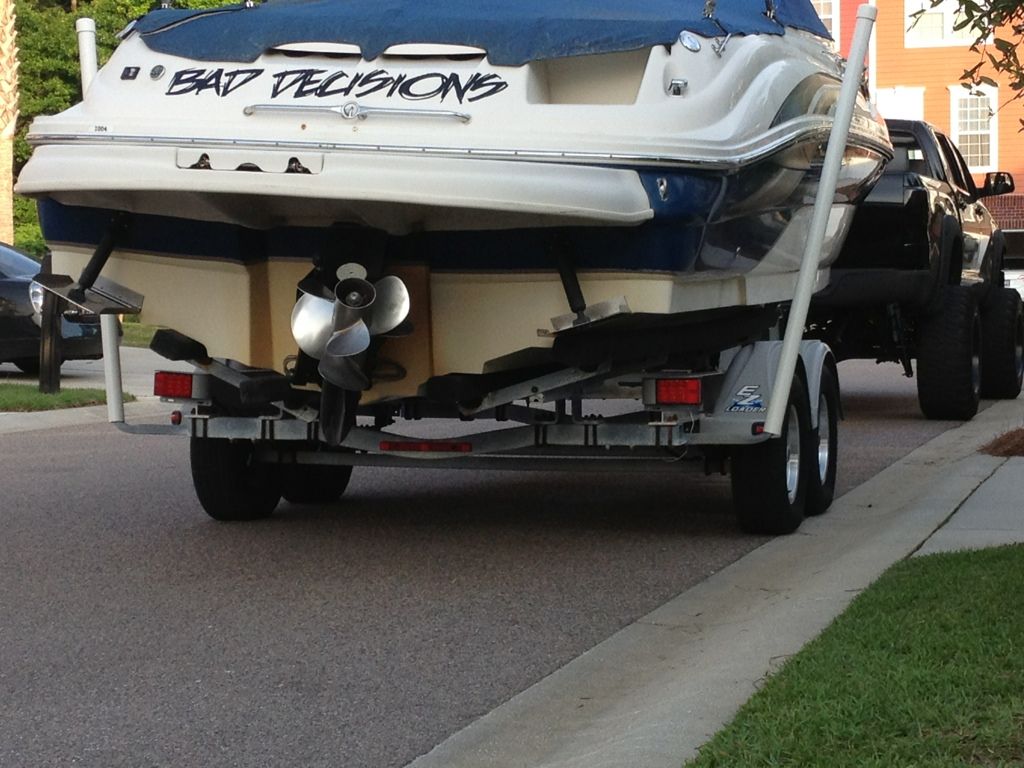 UPDATE 1/6/2014
Project to tackle this weekend. Think the shipping container was big enough? 275lbs with bumper lol. Will be getting it Line-X'd first then I will be doing the install. Pics to come!
ICI Magnum winch bumper, 4 PIAA 510 5192 Xtreme White Driving Lamps (I believe these are brighter then their fog lights), Bad Lands 12,000lb winch. Still waiting on my 1" ARB D-Rings for the front.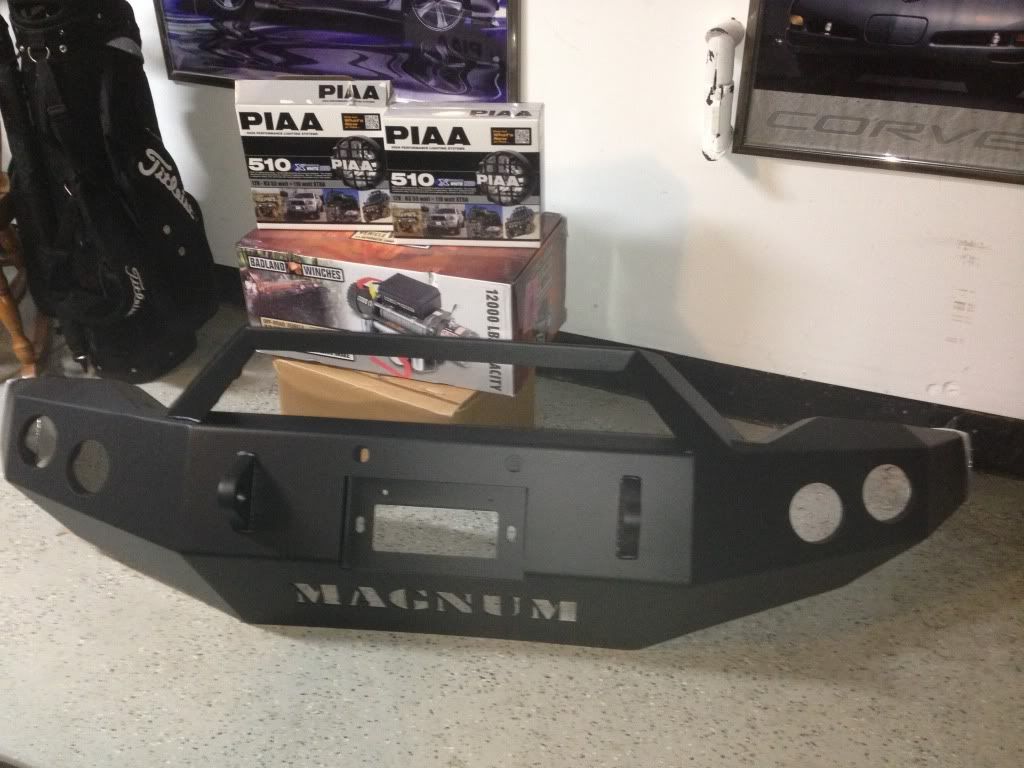 UPDATE 1/9/2014
Bumper is Line-X'd and mounted, winch is installed and wired up, lights are installed, but wiring for those tomorrow. Still waiting on my 1" ARB D-ring hooks as well!! Hurry up 4wheelparts! More pics to come this weekend when I get it cleaned up and have a bit more daylight!
Placed the bumper on a several blocks of wood that weighed exactly 10lbs. So bumper weighs 122.4lbs with Line-X.
Before mounting to truck;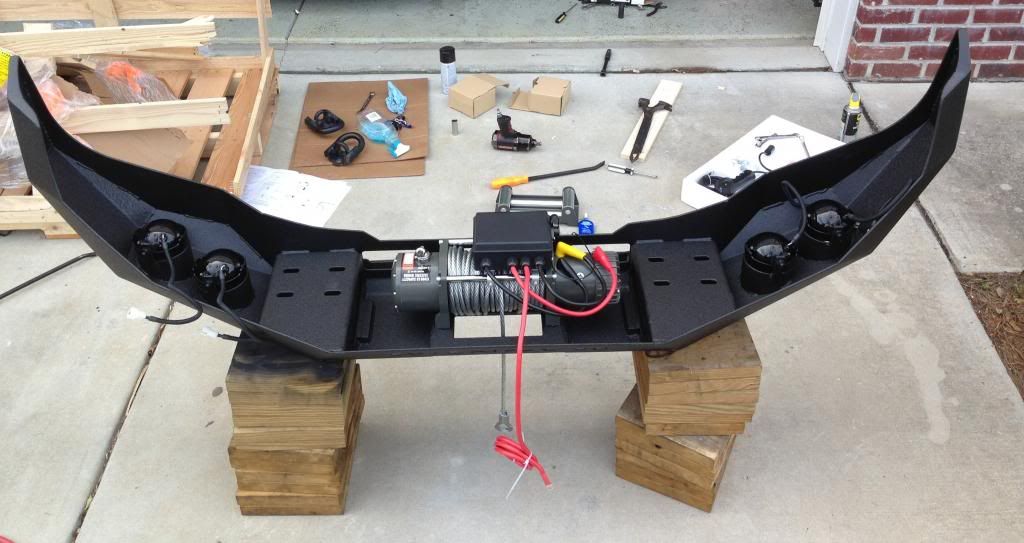 looking down on the bumper as you can see the winch is well mounted inside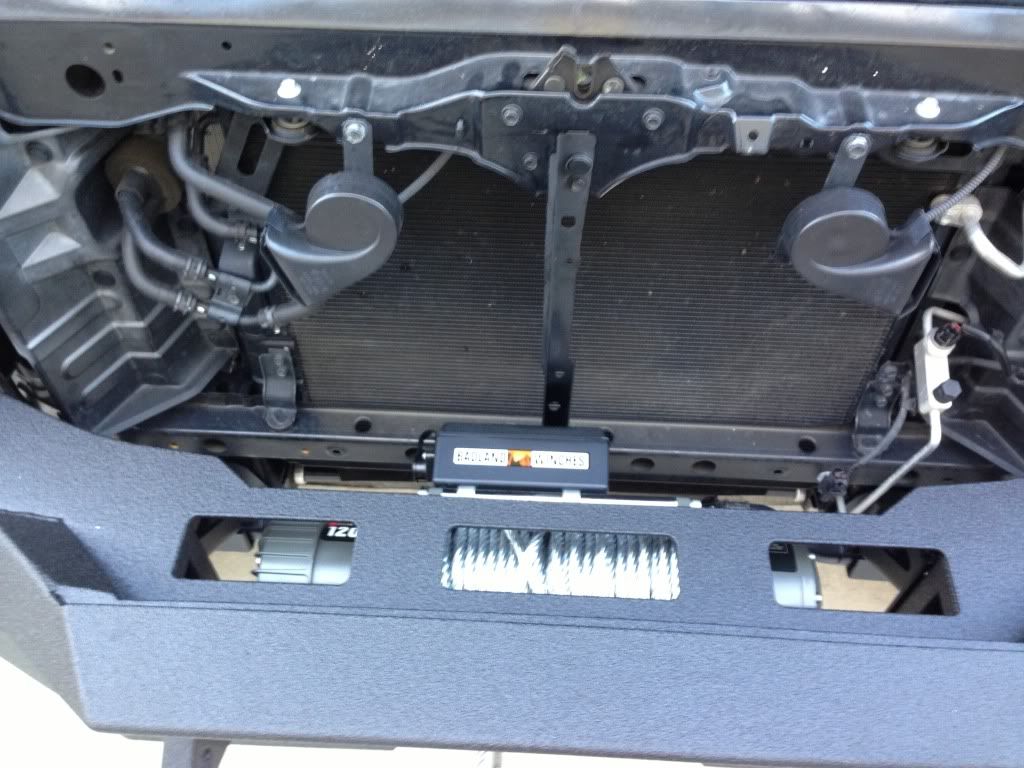 A little bit of urban offroading lol!
Pulled up to a Pontiac Grand Am
The last thing you would see god forbid I hit a car lol;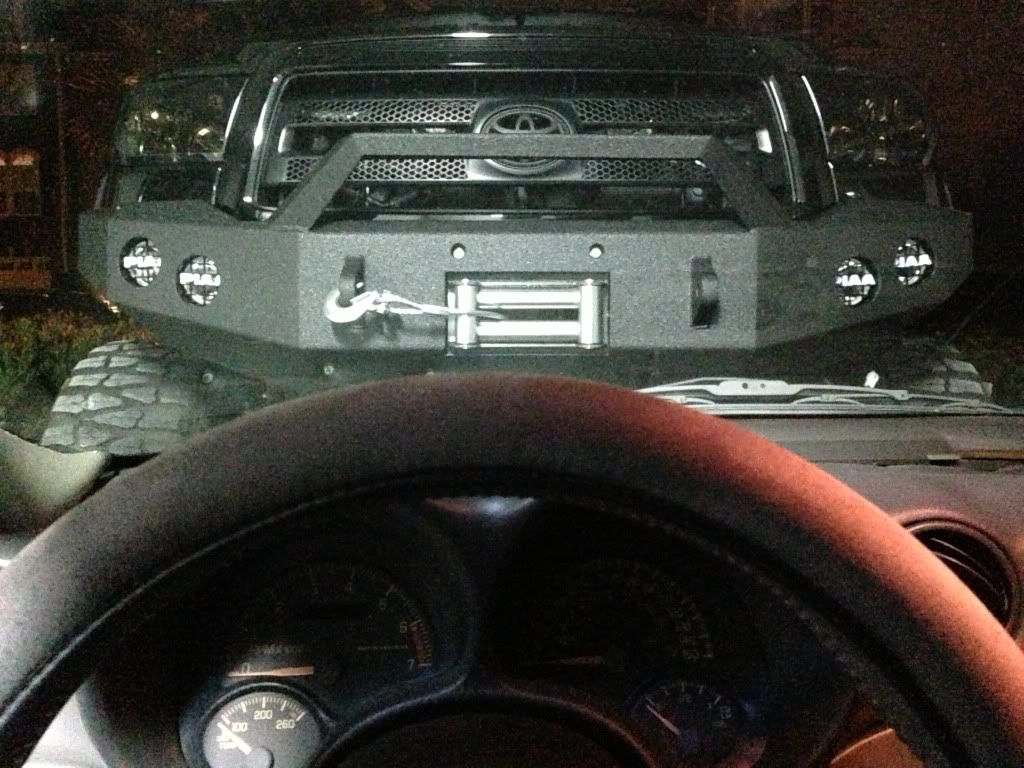 UPDATE 1/10/2014
Lights are wired up!! super simple, wired them into the OEM foglight harness. two wires. on each light. one power, one ground. Piece of cake. Now PIAA offers two different 510's. One is a fog light the other is a driving light. I ordered 4 driving lights so a have the power of the sun with a click of a button lol. About fully dark and I'll have to see the angles and distance that these do. So far;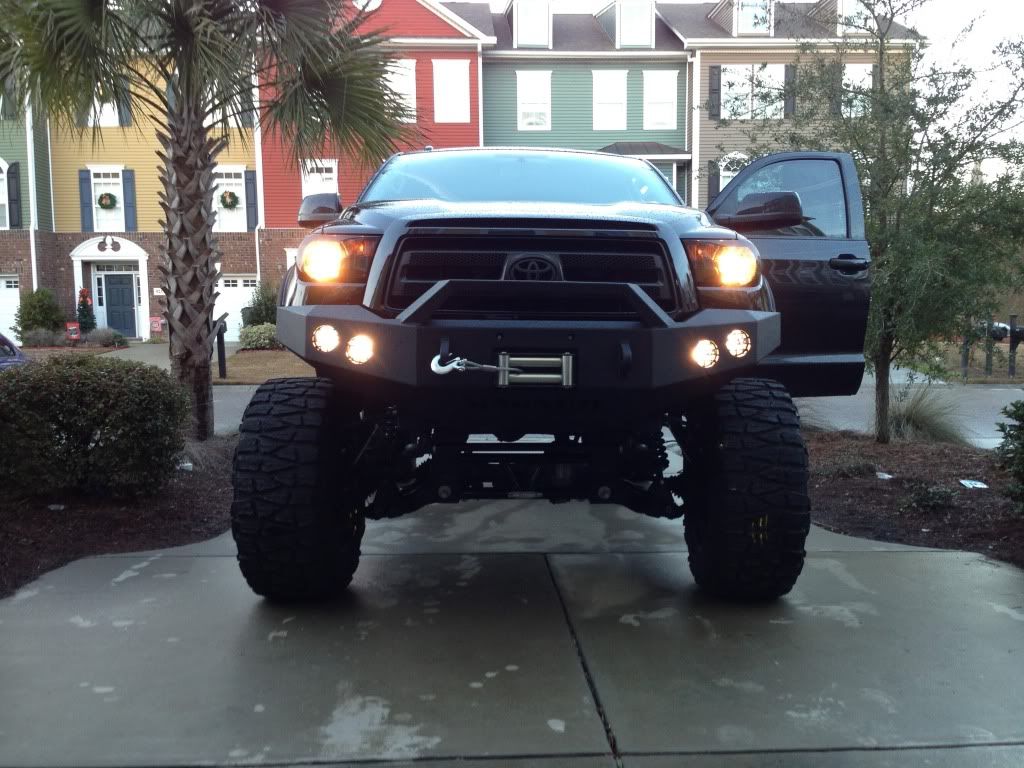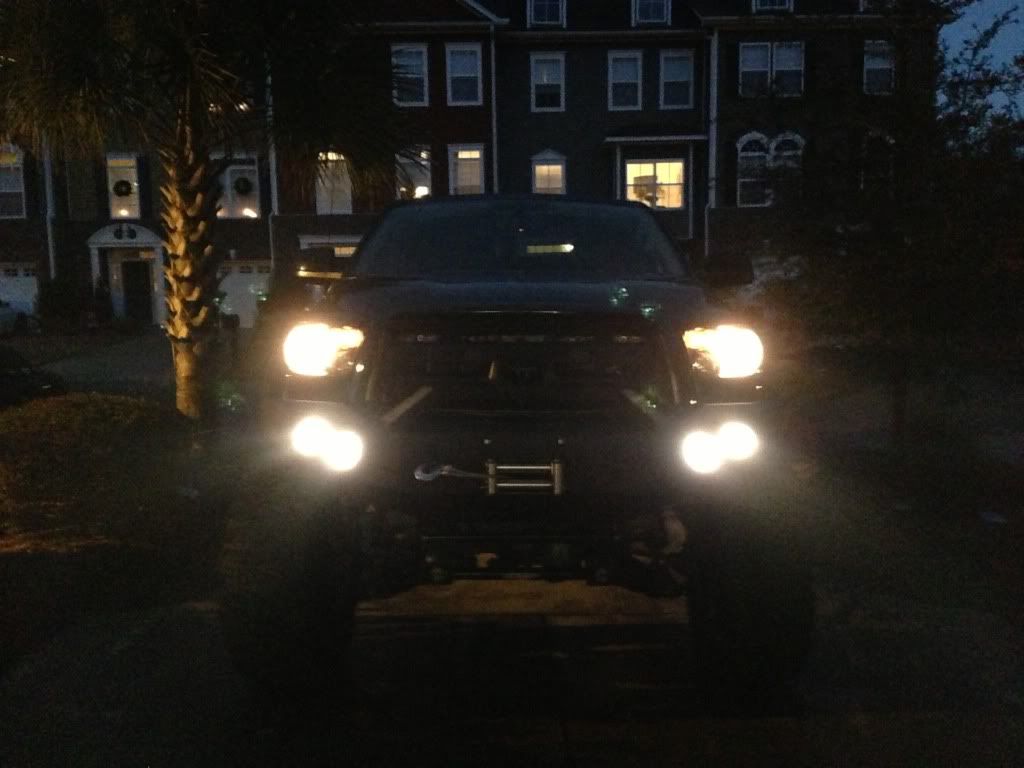 1" tow hooks for the front bumper. Rated at 19000lbs. Over kill? Yes. But everything on my truck is an overkill lol. You can see how obnoxiously large these are compared to the Tundra key. Painting them right now, pics to come after I spend a day detailing it. have to fly this weekend so it may have to be the next one.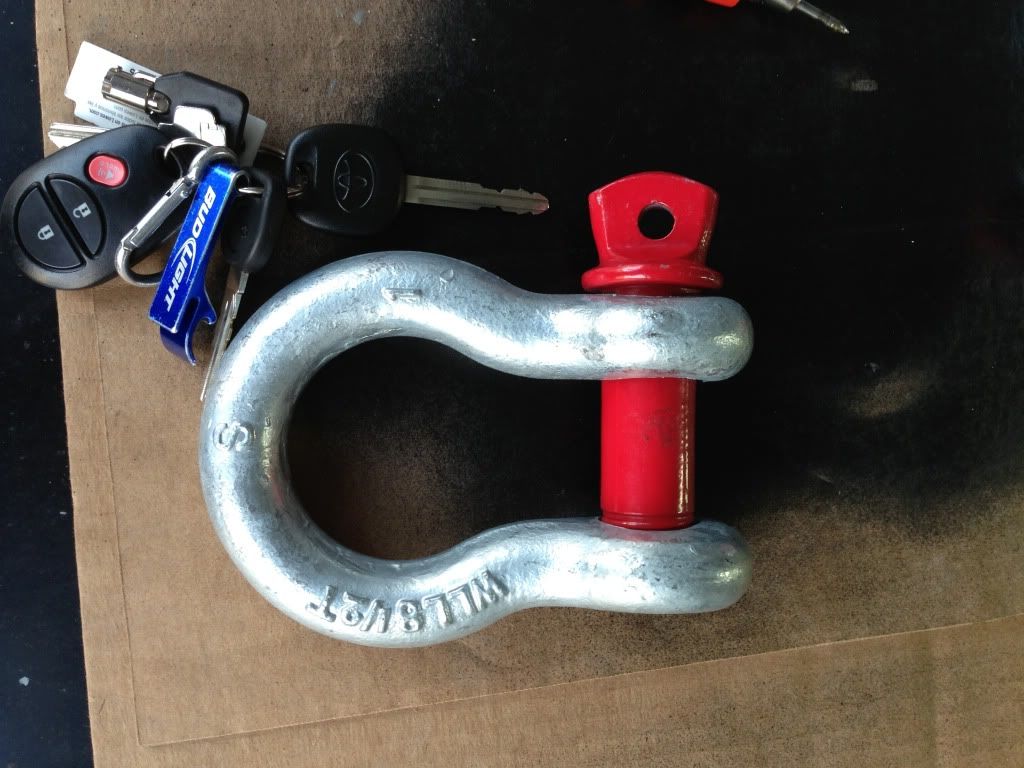 UPDATE 4/15/2014
Haven't updated this in a while so here were I sit right now with it;
- Bought 4.88 gears and master kits (figured why not replace everything since I had it apart)
- Tore down the entire lift off the truck and had everything re-powdercoated (minus the cage and UCA's since they didn't need it)
- Girlfriend bought me the shift kit for my Tundra as one of my b-day presents last week
Truck's front end is 99% assembled with the new 4.88 (sway still not hooked up and driveshaft isn't either). Rear end is completely torn apart and I'm at a standstill since I'm flying till thursday, land for about 24 hours back at home and back on the road for 6 more days after that. Shift kit should be here by the end of the week and I plan on doing that as well since it doesn't seem to hard.
After two years of driving with the BP lift on my truck, overall the kit has done great and held up well. A few things I was not impressed with though;
- Poor powder coating job. The place I took it to here in town said it was not prepped and thats why I had paint chipping and bubbling off the parts. How to fix it? Better prep work in painting. powder coat should last longer then 16000 miles aka 2 years for me in a place that gets no snow or salt on the roads.
- The tie rod ends break down to fast causing slop and needing replacement about once a year. I know I'm on a large tire 40x15.50 and we don't have steering stabilizers so I'm sure thats part of the problem How to fix it? Beefier tie rods included in the kits
- There is a griding sound in 4wd at high speeds. After talking with several 4wd shops including Brian at BP, we've all come up with that its the front driveshafts angle causing this sound. How to fix it? Include the parts or a different driveshaft to have a double U joint.
On Fox's part, the shock casing were very corroded with oxidation and rust. They looked like shtt. Fox obliged to replace the casings for free but I had to send mine in thus costing about 10 days and $130 dollars Via UPS ground.
Overall I'm very happy with the kit and these are nice parts, I just would like to see a few things as stated above fixed for future kits
. Anyways pics as always;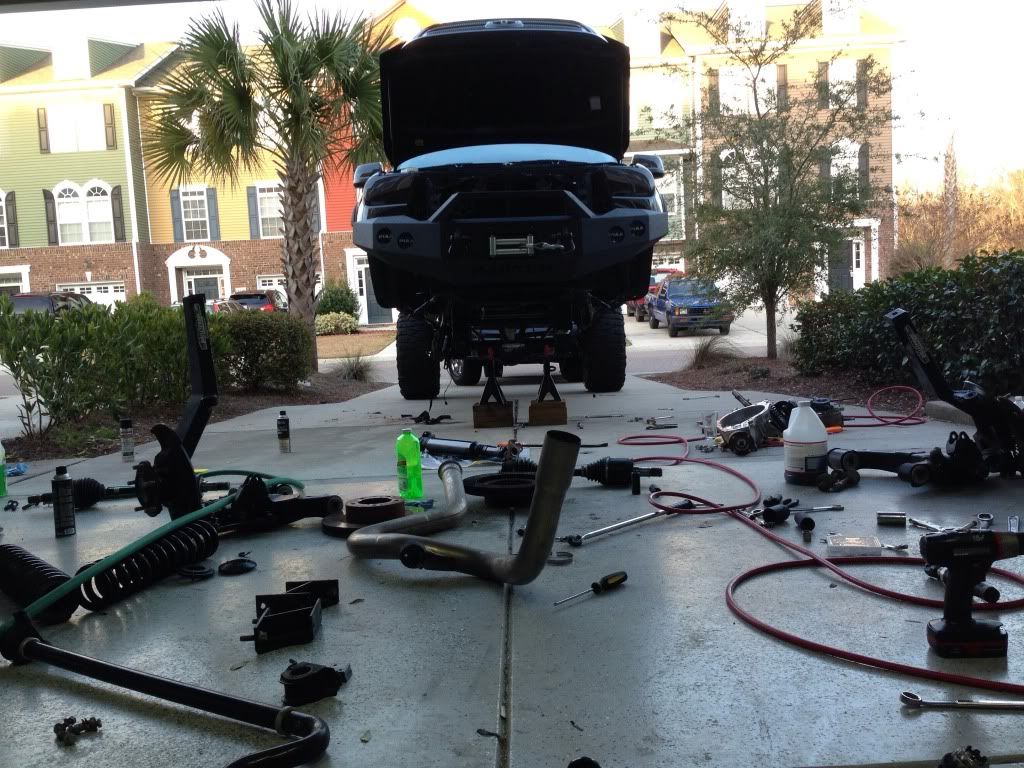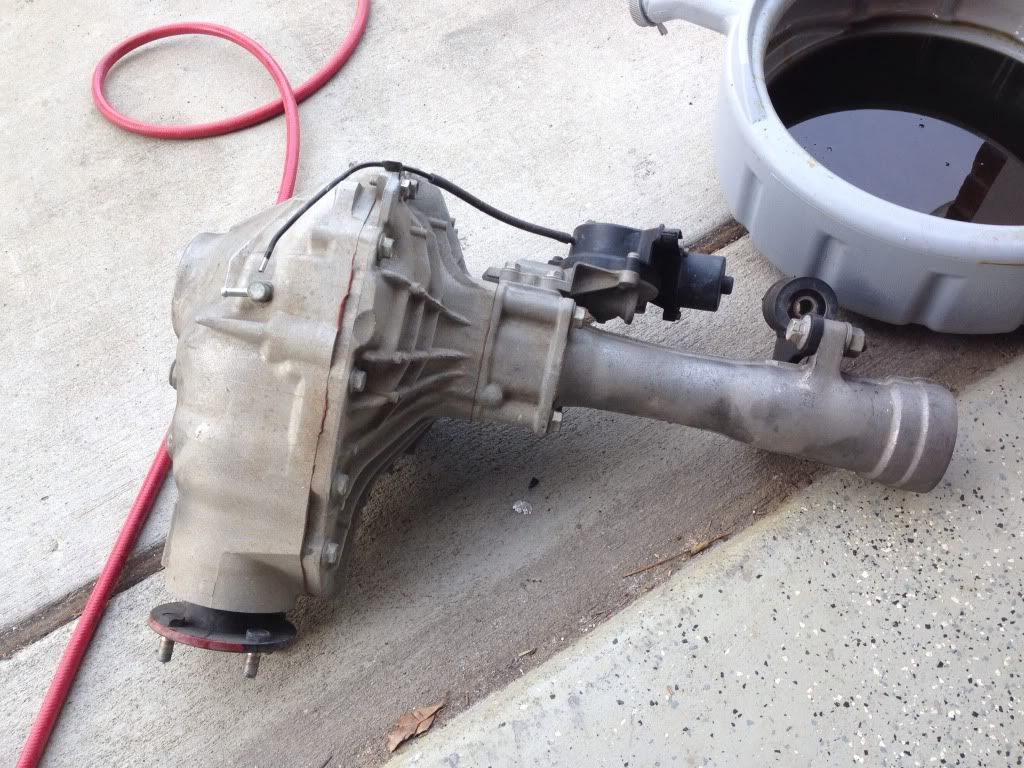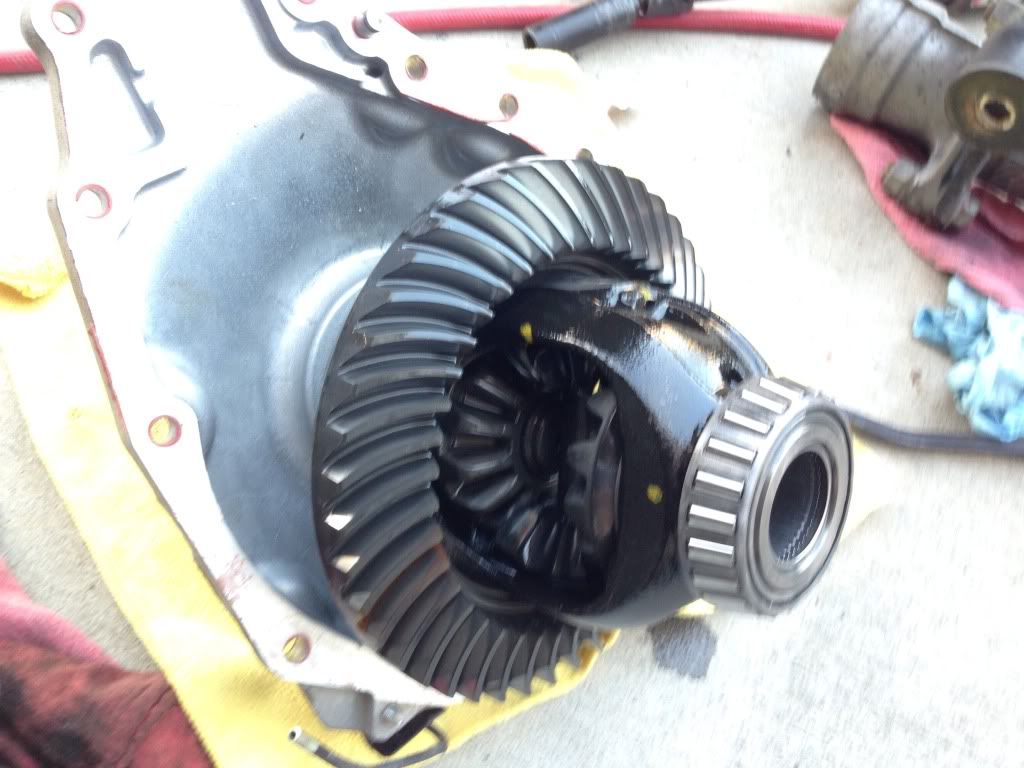 Newley powder coated!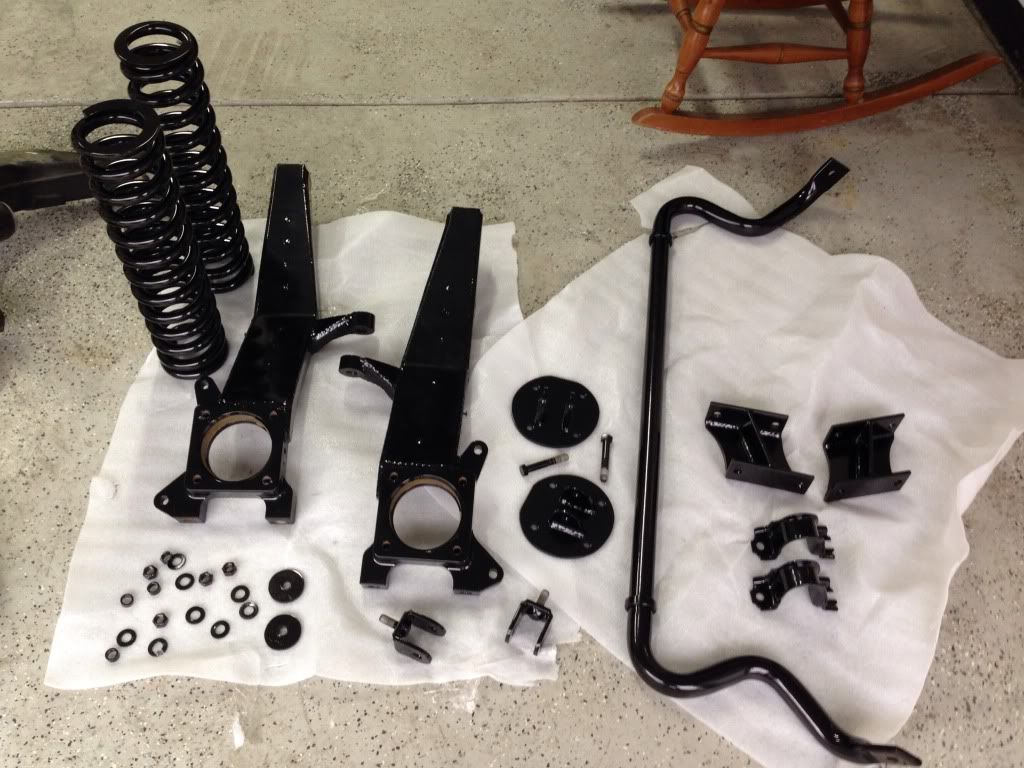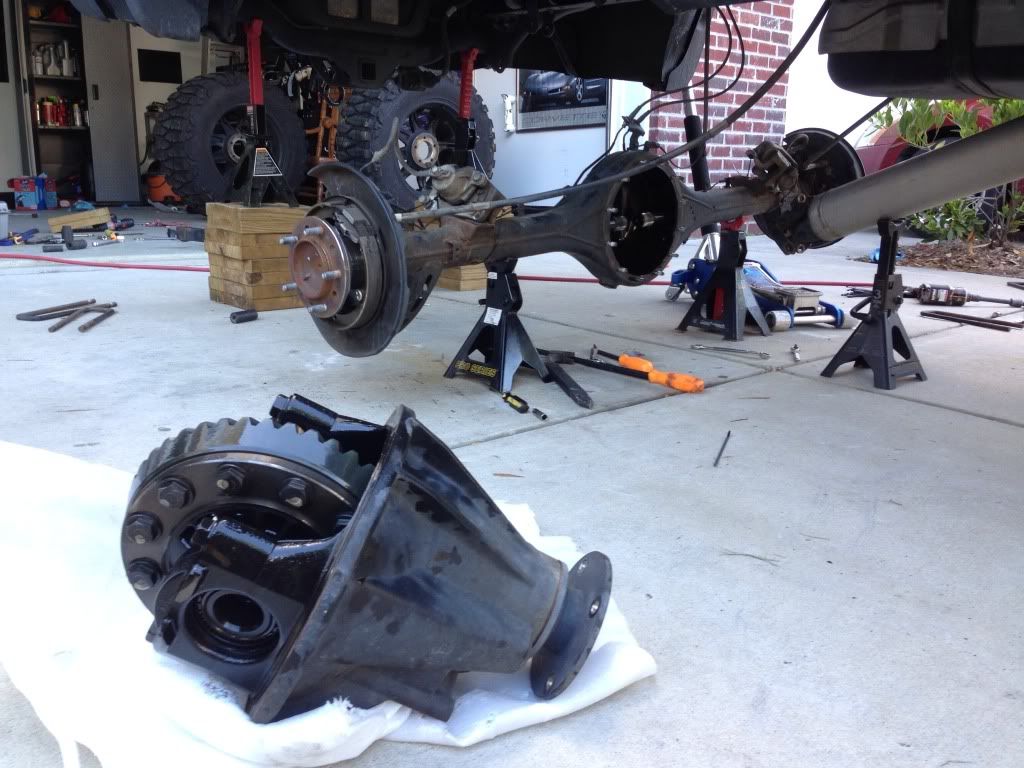 New fox shocks with black stickers (old ones were blue)!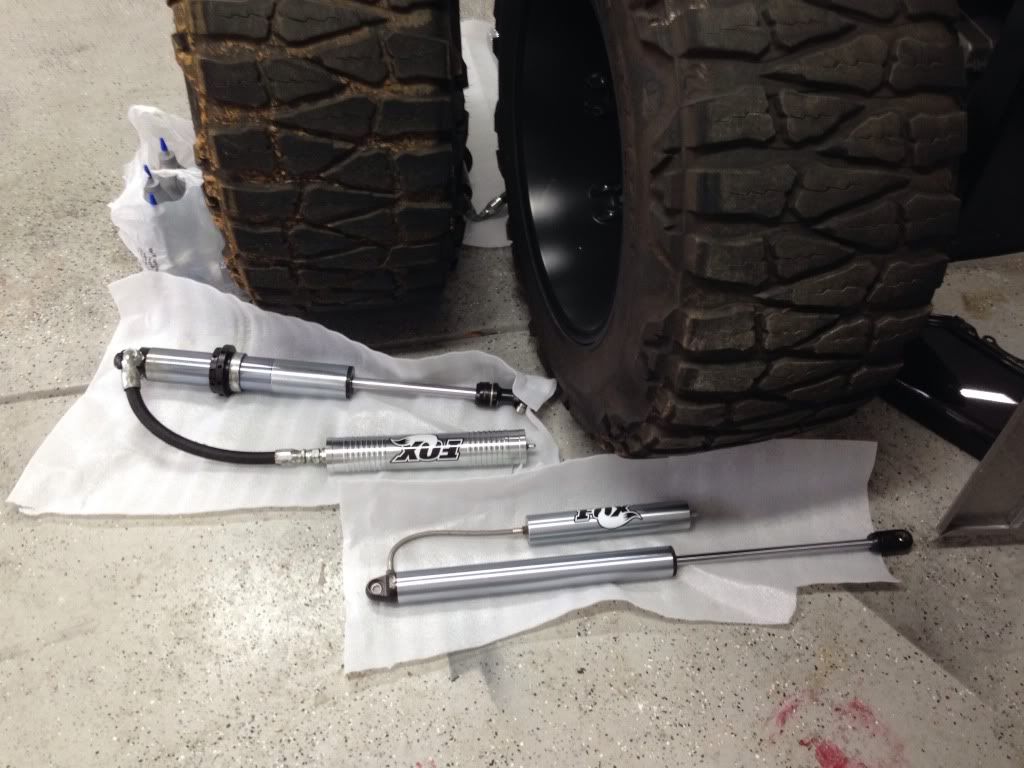 UPDATE 6/8/2014
Haven't posted pics of the truck put back together or with the tow mirrors. It's was starting to rain and the truck is dirty. Just got the boat out the water: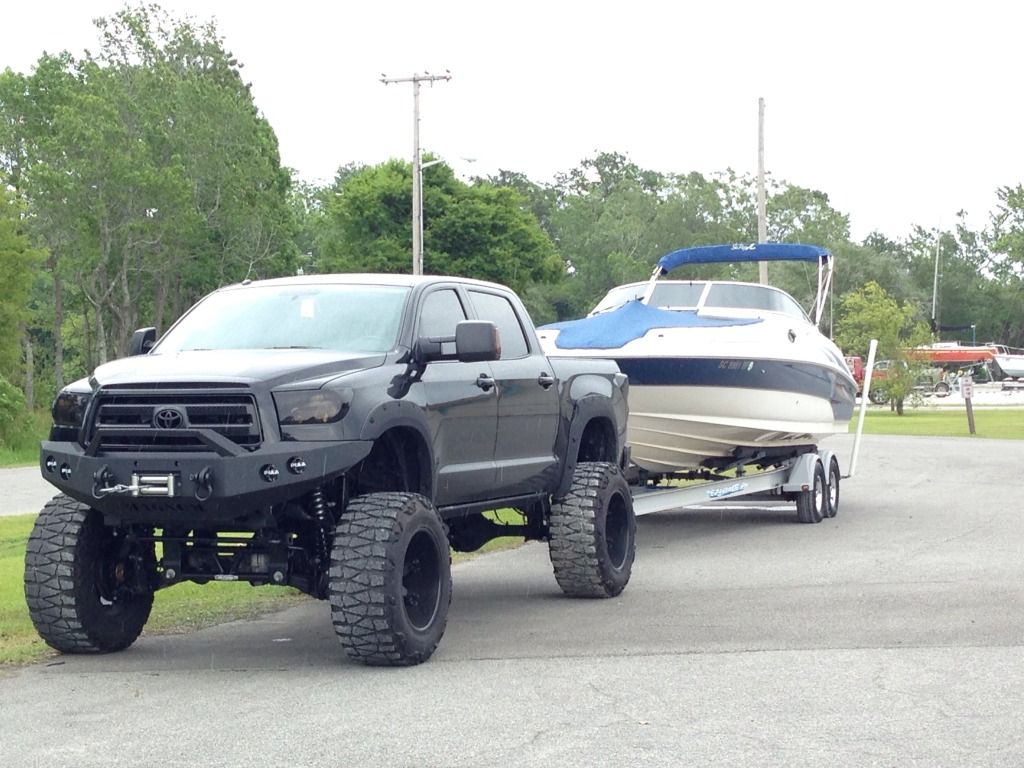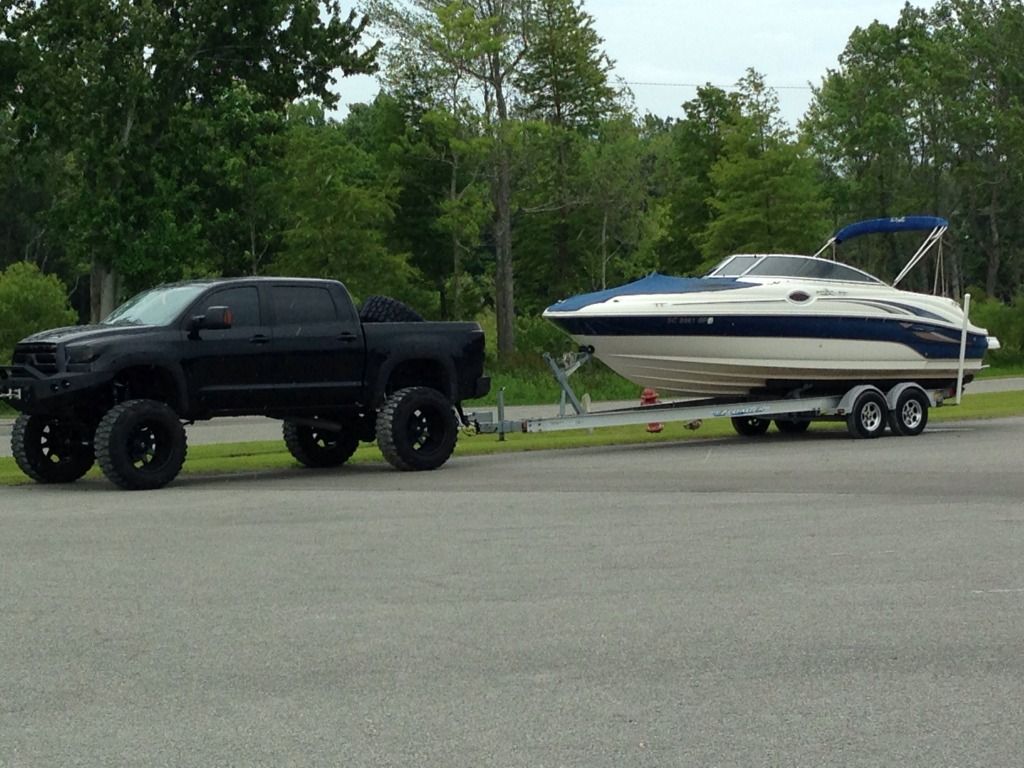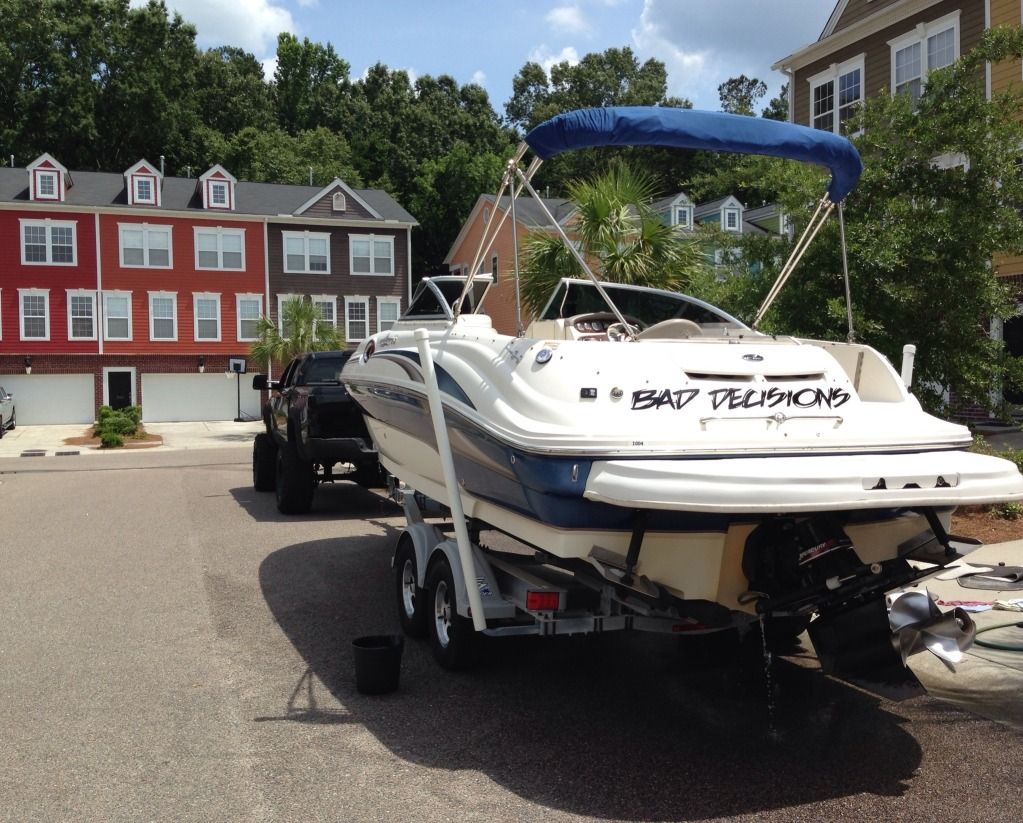 UPDATE 9/4/2014
Horn Blasters Shocker 240 Train horn installed! This thing is not only authentic sounding, loud is an extreme understatement lol.
Click
the link below for a video! vvvv
http://i33.photobucket.com/albums/d...7E9818-11980-000009E58D278B6B_zpsa24ee920.mp4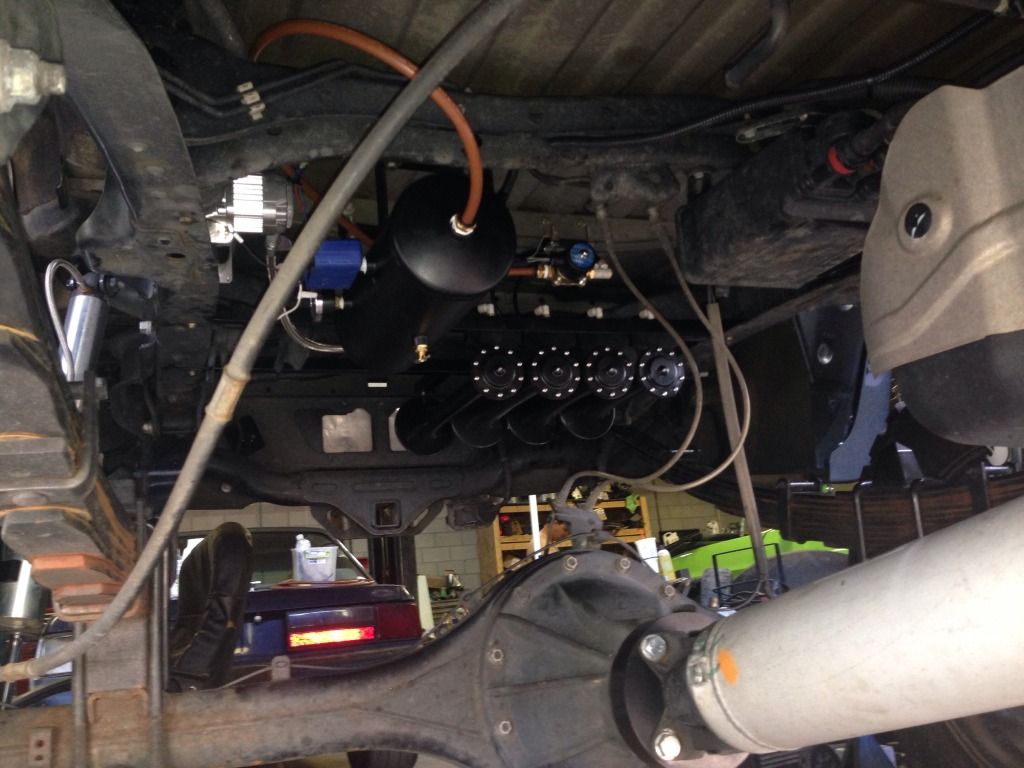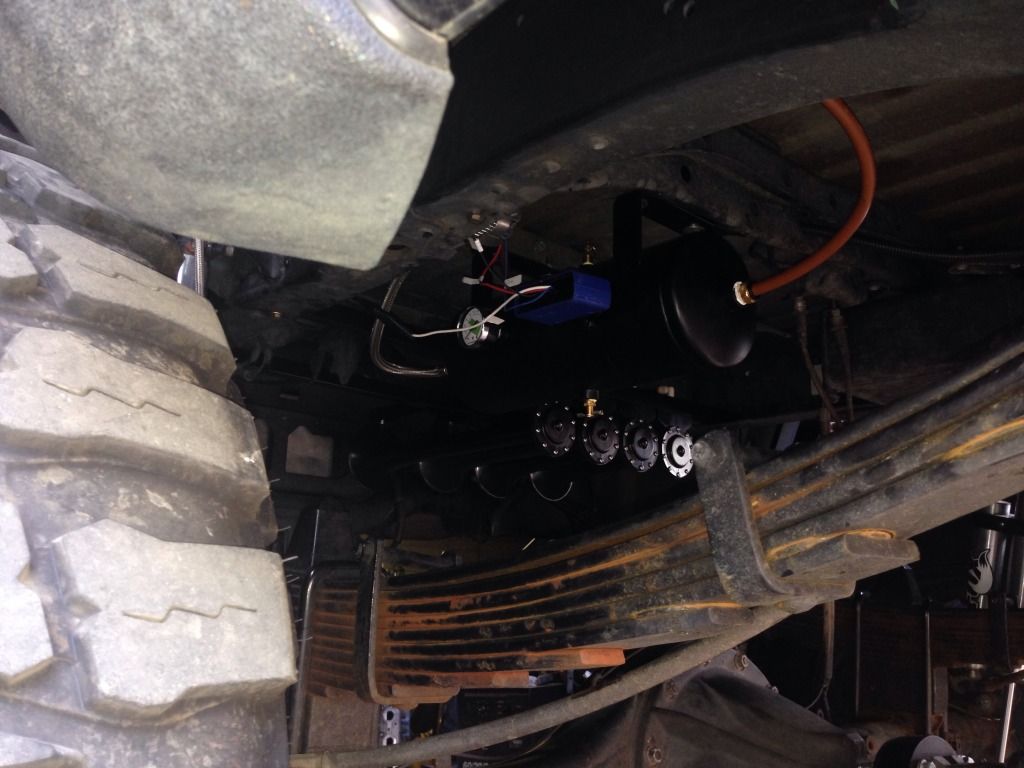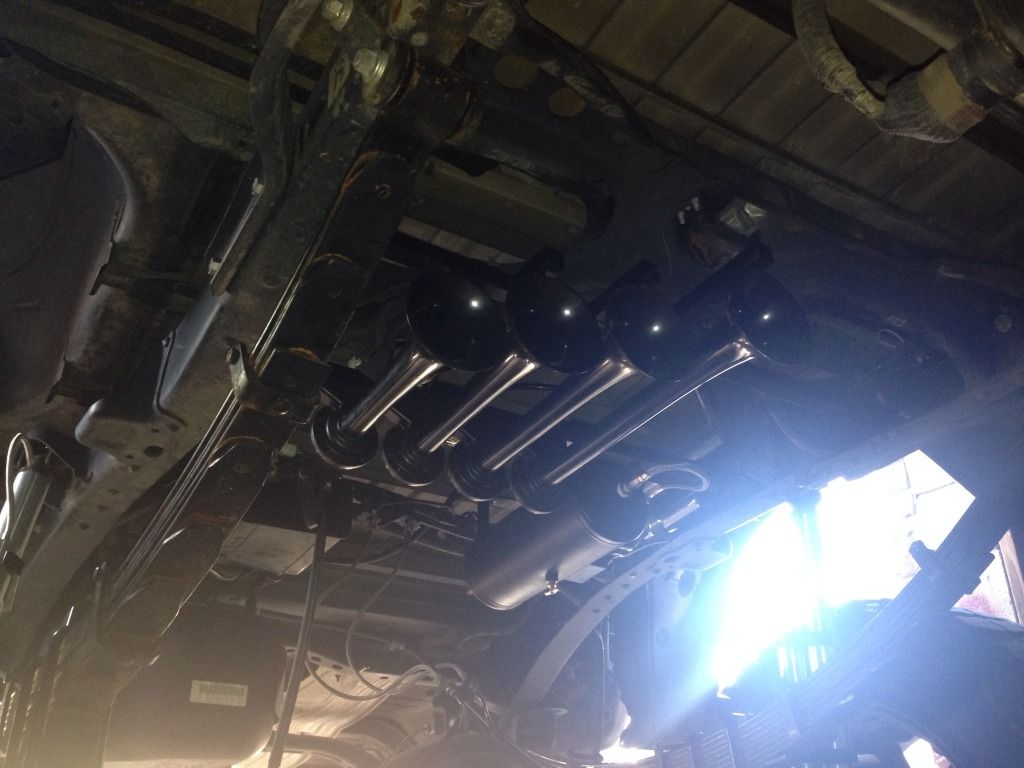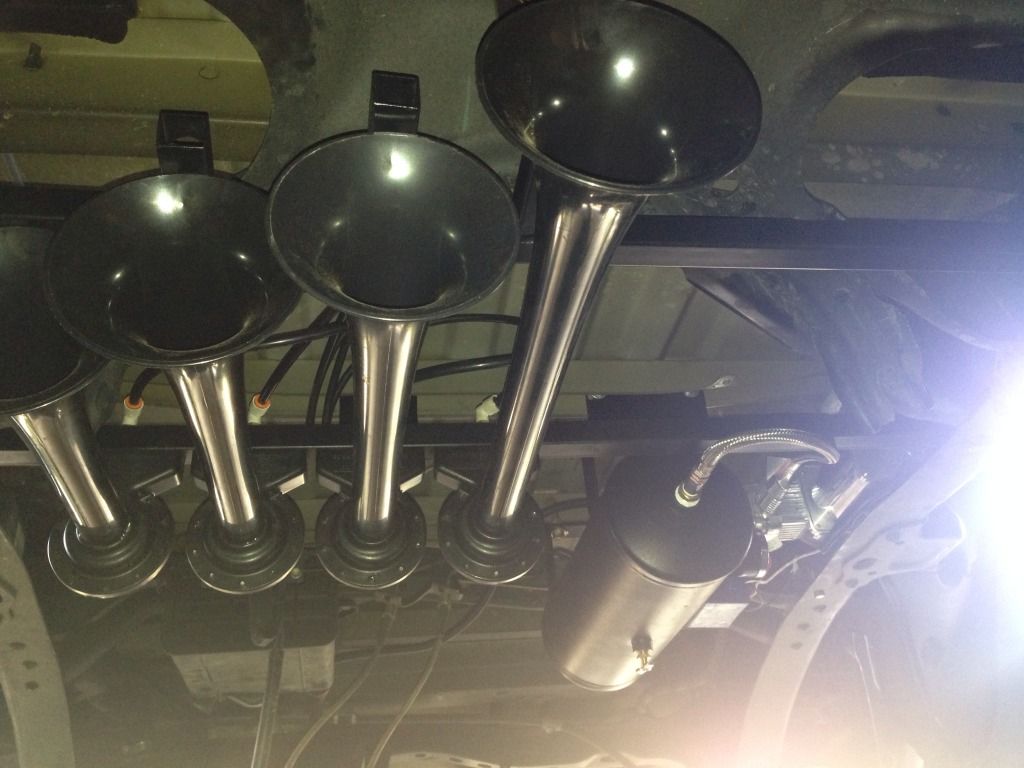 UPDATE 1/10/2015
I'm trying to get my truck into any magazine that will take me lol. Here is what I'm submitting to the magazine companies. 3 years old now and 21k miles some of the photos may need to be "touched up" but truck is in amazing shape, just not flawless. Took 160 photos, these are my favorites. Detailed by VIP Detailing of Charleston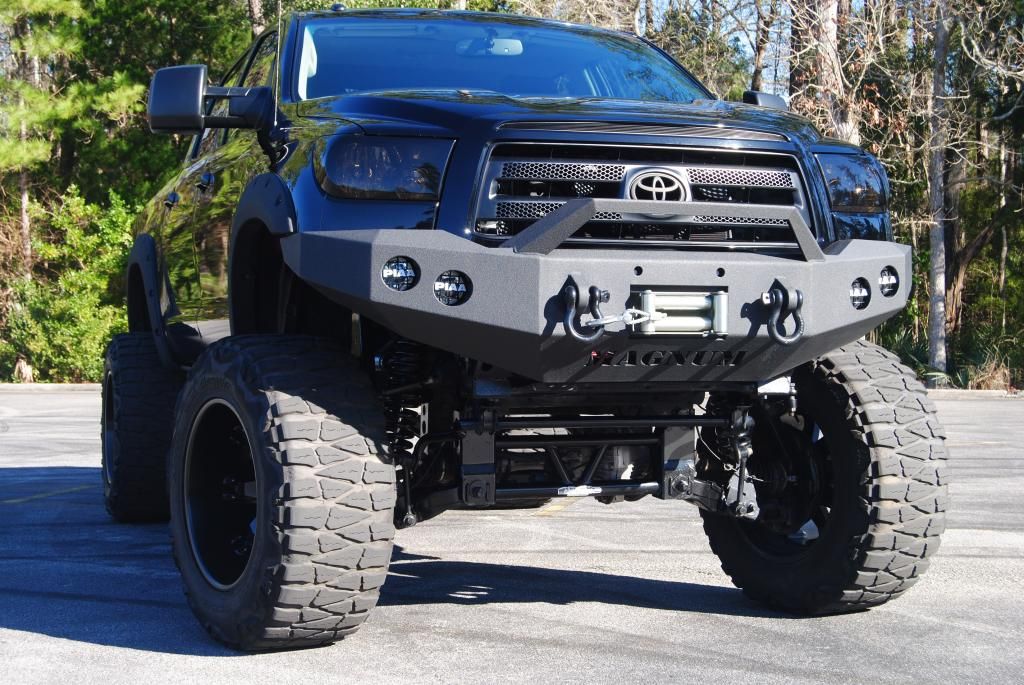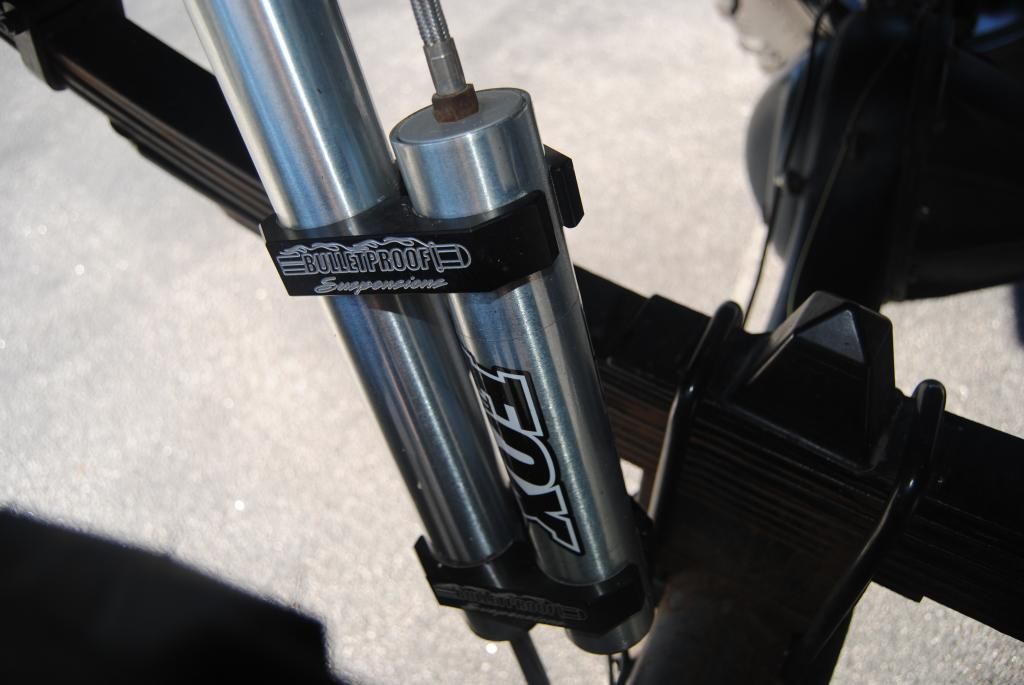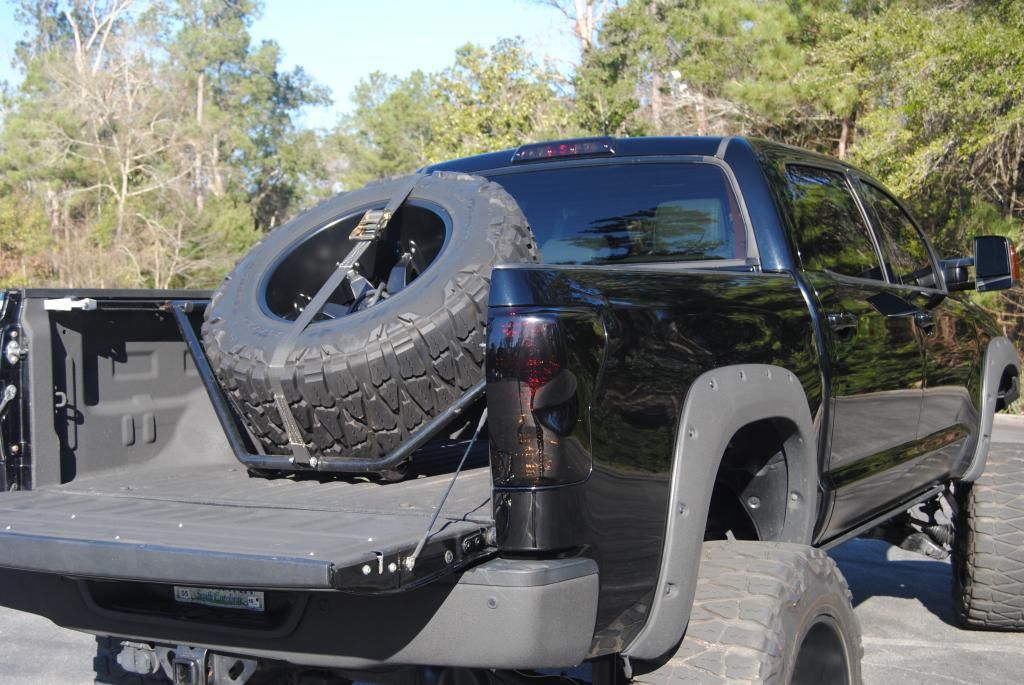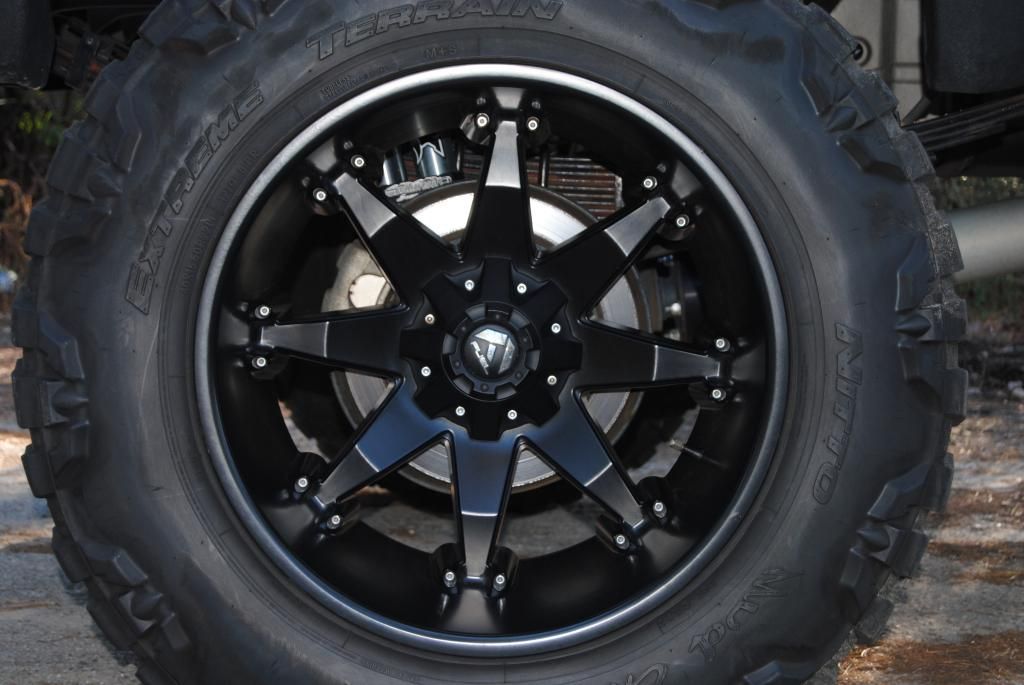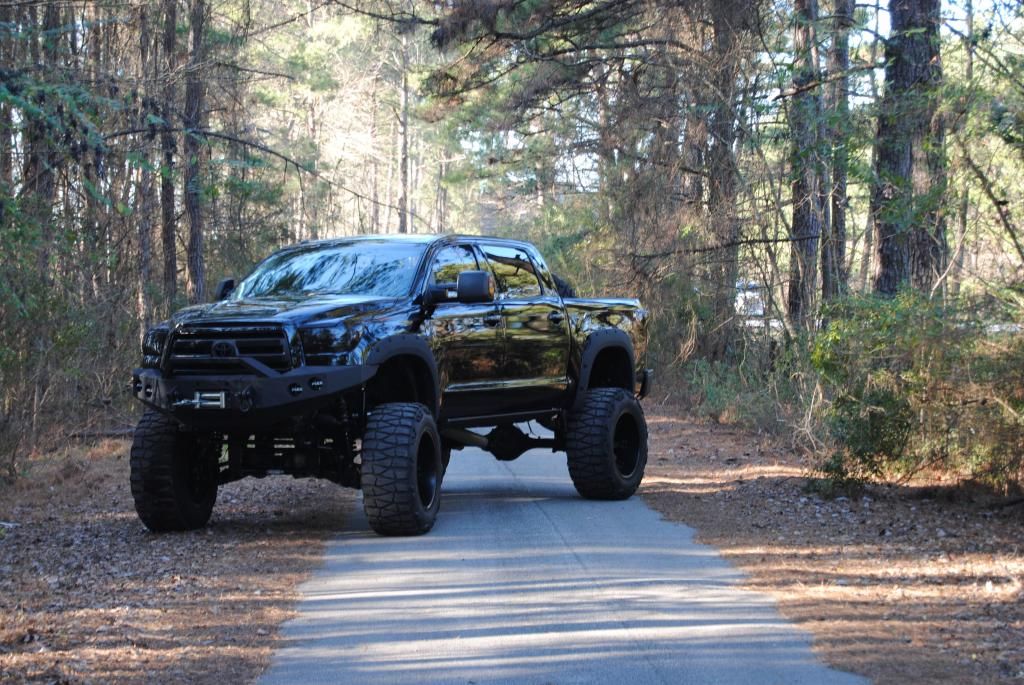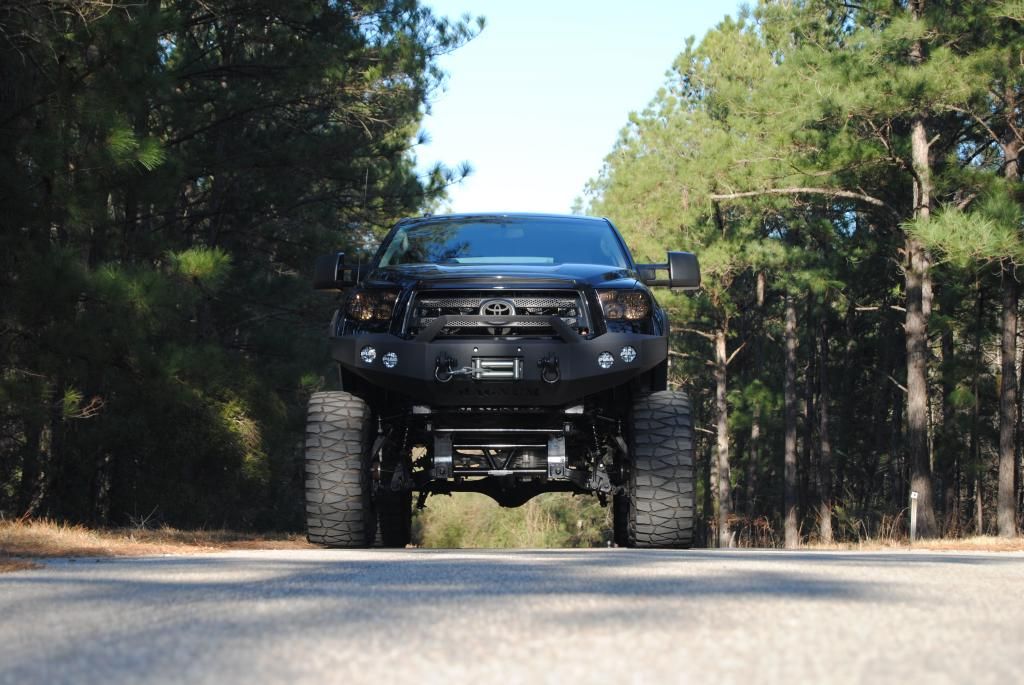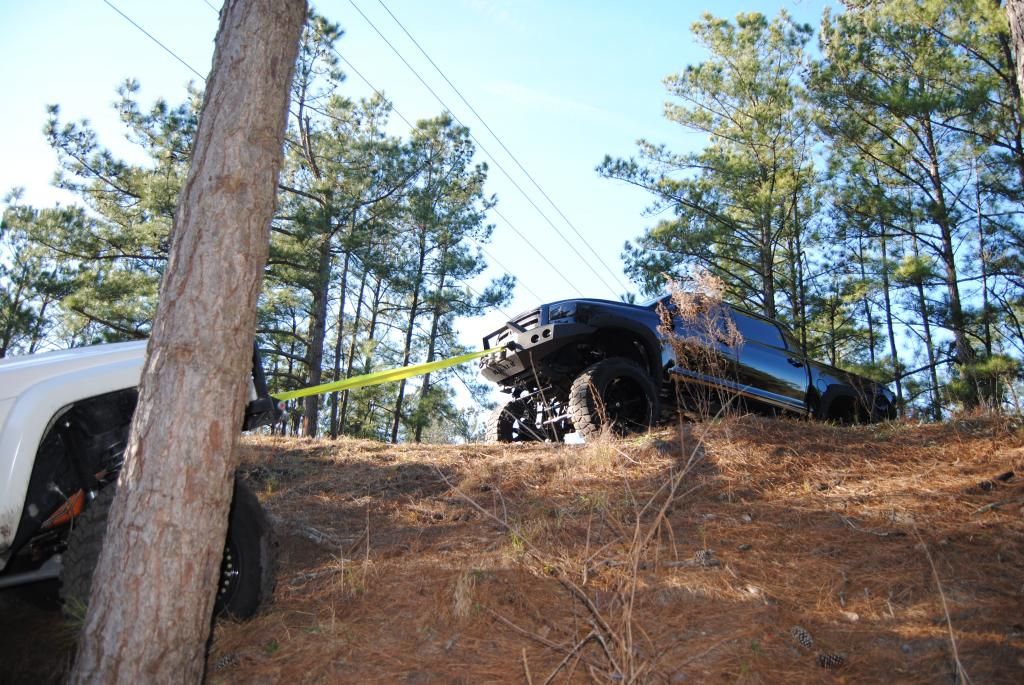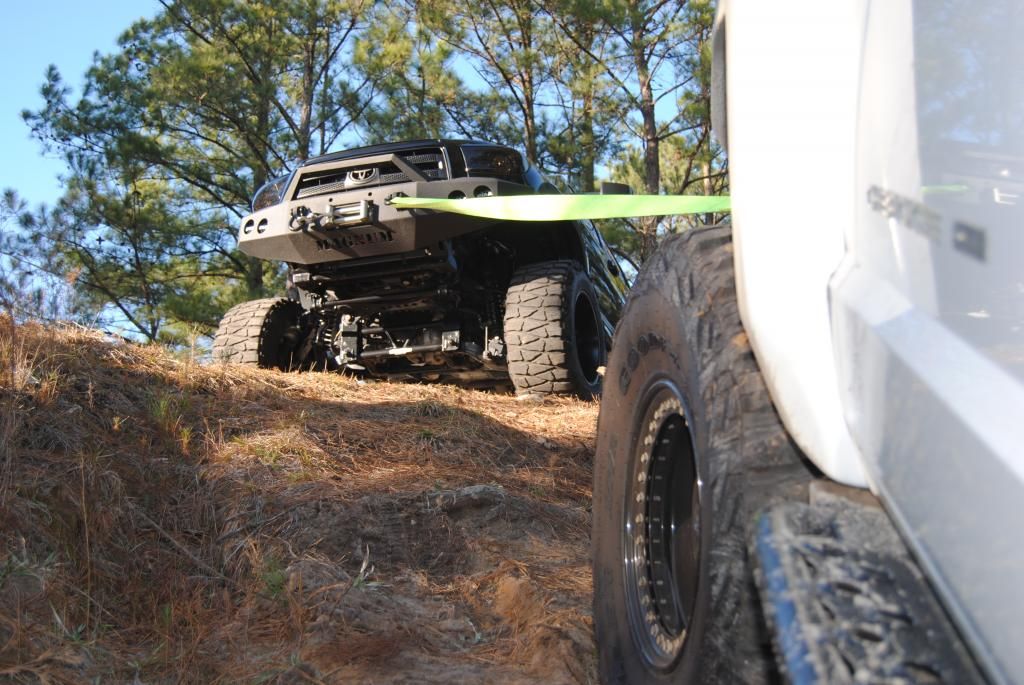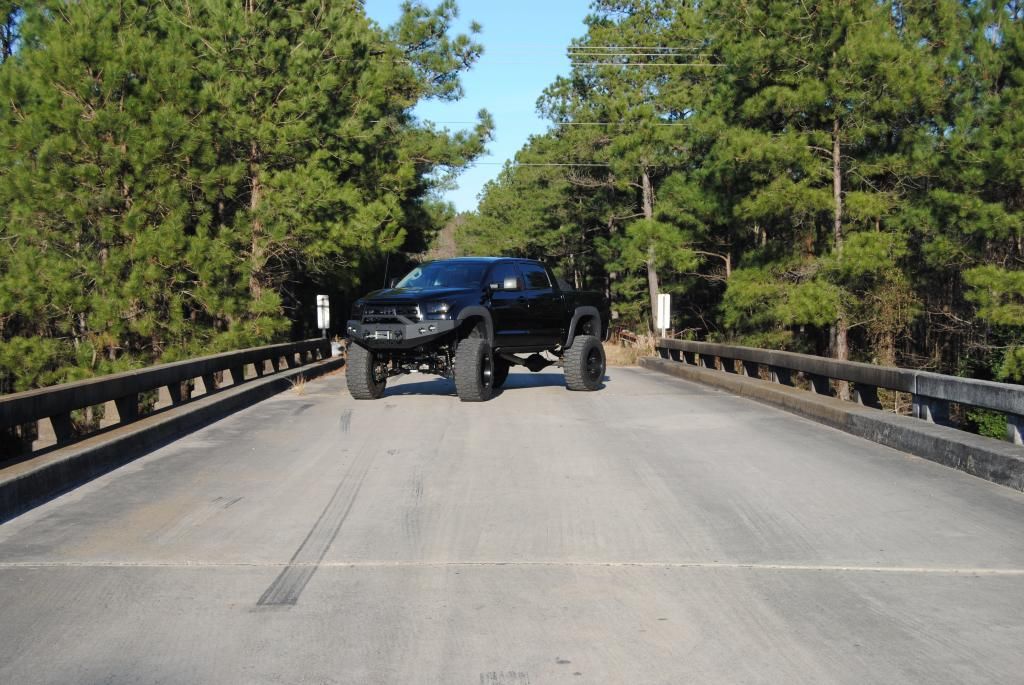 UPDATE 4/6/2015
IT'S FOR SALE!
Over 100 thanks to this thread and over 86,000 views. It's been fun guys!
For sale link below!
http://www.tundratalk.net/forums/sa...les-23-000-aftermarket-parts.html#post5558010
UPDATE 4/8/2015
Truck is sold. 3 years and 1 month and 1 day of ownership to the date. $75k invested and 22000 fun miles. Time for me to move on, tt's been fun Tundatalk.
. Look for me in the off topic section!