Discussion Starter
·
#1
·
Starting with the 2010 MY Toyota started placing the satellite radio antenna on the roof of the Tundra - right where you would want one of the CCLs to go (if you wanted to install them). I do quite a bit of driving from dusk to dawn and really like having CCLs on my truck (this is the 3rd set I have installed). I read on one of the Chevy or Ford forums about a guy who embedded the satellite radio antenna inside one of the CCLs and that got me to thinking...
The first thing you have to do is take off the following interior pieces (in order to lower the front half of the headliner): roof center console, sun visors, A-pillar garnishings; passenger side roof handle; drivers side little rectangular button just to the left of your head. Then you can pull down the front of the headliner to see this:
Remove that big nut and then unplug the blue connector on the passenger side A-pillar and you can remove the antenna.
Then you can route the blue plug end through the square hole in the roof to competely remove the satellite antenna:
Then you can take it to your workbench for disassembly (3 sets of Phillips screws for the outer case and then 3 more to remove the postage-stamp sized business end):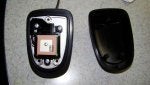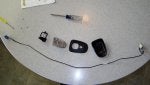 To remove the outer blue casing from the plug end to get the satellite wire out of the metal base (involves using a very small flat blade screwdriver to disengage a couple of prongs):
This is the bottom of the Recon CCL.
Peel off the foam seal to reveal this:
I used my Dremel saw to remove part of 2 of the ribs (roughly the width and depth of the antenna). Place the antenna into the "trough" and I wedged it in there with a few small pieces of cardboard (be sure to have the proper side face the sky):
The finished CCL combination satellite radio antenna ready for install on the roof (and leftover parts):
Proceed with CCL install as usual. I constructed a temporary scaffold for this install so I would not have to climb all over the truck:
I wired the CCLs to the parking lights thanks to the help of
Echo6 Sierra
over at tundra solutions dot com. He identified the top left dark green wire of the black plug just behind the driver's side kick panel. I soldered in a power lead for the CCLs (to be run up the A-pillar):
A look at the black plug (be sure to remove negative battery terminal prior to messing around with this plug):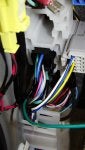 I used the wire harness supplied with the lights (just clipped off the ends). RTV silicone to the underside of all holes. Button back up the interior and you are done.
The Tundra radio does not have a signal strength meter but, I can not discern any change in reception.
re.ac.tor :drive: