Discussion Starter
·
#1
·
Hey guys,
I was talking to Keith from BAMufflers a few days ago about headers and he swears that the 4.6 and 5.7 engines are the same dimensions outside so that long tube headers from the 5.7 should fit the 4.6. Surprisingly no one on the forum has confirmed that. Some have said the 5.7 deck height is taller and although headers might bolt up, the clearance might not be there.
I know from the headers back all the exhaust pieces are the same. In fact when I crawled underneath my Tundra, I saw toyota 5.7 stickers on my pieces. So the question is what about the headers? Here is what I discovered by looking at stock photos found on ebay.
5.7 Stock Passenger Header:

5.7 Stock Driver Header:

4.6 Stock Passenger Header:

4.6 Stock Passenger Header: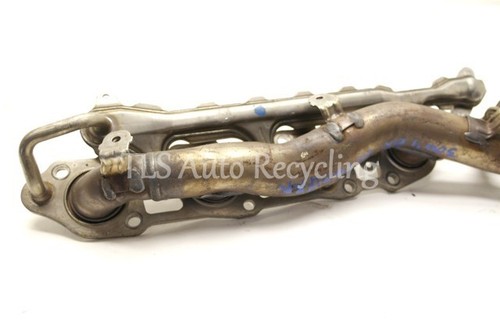 Without measuring I know its impossible but from the pics it appears that the length and angle looks identical. What's not identical is the type of headers they are. As you can see the 5.7's 4-2-1 design is much better than the 4.6's very restricted log design.
If it is true that the two are interchangeable then it would seem a very inexpensive way for 4.6 guys to gain some power just by picking up used 5.7 headers. Also this would mean that all the 4.6 guys can pick up long tube headers without waiting to hear from manufacture that officially states that its meant for the 4.6.
What do you guys think? Let the debate commence!