Discussion Starter
·
#1
·
I wanted to share some of the details of my subwoofer installation on my 2014 3rd Gen Tundra Limited Crewmax w/JBL audio.
It's important to start off by saying that this can be picked apart by any audiophile. This is not a perfect/pro setup by any means. I was able to get great results with a relatively minimalist approach. The stock JBL sound system leaves MUCH too be desired and I have to say that I was thoroughly disappointed in the whole setup. Especially the flabby factory subwoofer. Just sounded like a mess when you turn it up loud.
I had a couple of main goals with this. One was to keep the stock look and utilize the factory head unit. I didn't want to mess with this relatively new truck. I wanted the upgrade to be unnoticeable to the eye. The other was to improve the messy bass coming from that stock subwoofer.
I decided to install an aftermarket amp and 10" sub
Sub needs to be a a "Shallow Mount" type of speaker to fit behind the seat
https://www.crutchfield.com/p_108REF120S/Infinity-REF1200S.html?tp=111&awkw=123414538585&awat=pla&awnw=g&awcr=64647521905&awdv=c&awug=9019608
https://www.crutchfield.com/p_500MRVM500/Alpine-MRV-M500.html?tp=115&awkw=75621548185&awat=pla&awnw=g&awcr=47439291385&awdv=c&awug=9019609
I also ordered and installed the LC2I Line Output converter, but I would not recommend because as it turns out the subwoofer signal is just fine.
https://www.ebay.com/i/252351635643?chn=ps
I was apprehensive about this as I planned to use the signal going to the factory subwoofer. Just was not sure how clean it would be. As it turns out, it worked great.
As a side note if you have the same stock setup with subwoofer that I have I would recommend just unplugging the subwoofer to improve the sound. Upon unplugging mine it seemed as though it allowed the door speakers and tweeters to be powered more adequately. It actually sounded better! Surprising I know but give it a try
I only needed to run a positive cable from the battery, install a ground and run the amp gain control knob under the dash. The subwoofer signal already ran behind the rear seat (stock), and the Line output converter turns on and off automatically when it senses an audio signal so no need for a remote wire.
Below are the speaker box build measurements and install photos (sorry for the crude drawings, it should be accurate though). The sealed box is .5 cubic feet I believe. You can see I had to extend part of the box in order to get to .5 and still fit it behind the rear seat. It's a perfect fit. Seat functions completely normal, you don't even know it's there.
Very happy with how this turned out and would highly recommend this to anyone who is frustrated with their stock audio system. Seemingly factory but certainly sounds much much better. I was blown away by the results. The better sounding satellite speakers due to the stock amp not having to power the old factory subwoofer combined with the cleaner louder bass make a great combination.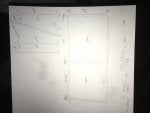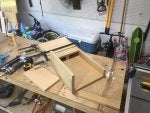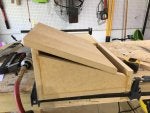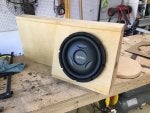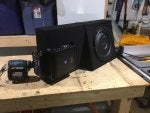 Any questions let me know.