2nd Generation Tundra articulation at 2013 Overland Expo...
I just got a video from a buddy of mine. He just returned from the 2013 Overland Expo. He took his Tundra through the Land Rover course set up. His rig is mildly lifted with ICON coilovers and a custom Deaver rear leaf pack. He does have an ARB air locker and it was engaged during this video.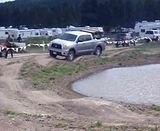 ​
Driver said that he got through the course without having to back up. There were some rigs, smaller in wheelbase, that had to back up...Good to see the 2nd gen Tundra going through it's paces...Well done DP!
Regards,
BWJ