Discussion Starter
·
#1
·
Hi all,
I just purchased my first brand new pickup and first Toyota a few weeks ago. It's a gray 2013 DC Tundra SR5 with the TRD package, 5.7l, 4x4 as seen in the pic below.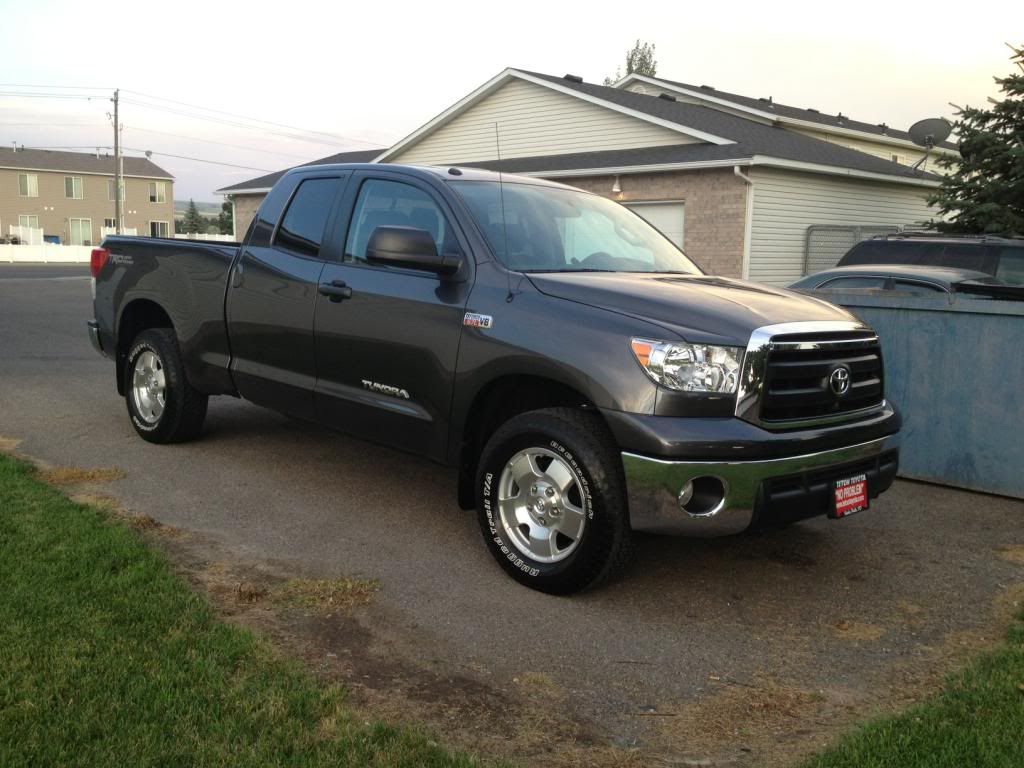 I'd love to say how ecstatic I am to own it, but I haven't been too pleased with it as of yet. Or rather, I'm none to happy with stealership that I bought it from and its ruining my new car buying experience. The truck itself is ALMOST everything I expected it to be - not necessarily my dream truck, but it seems to fit my needs for now.
I haven't modded it yet (or at least done anything that I consider a mod) but have added a few accessories like a bug deflector mustache for the grill, weathertec floor mats, and a tonneau cover out back. I'm glad I found this forum before I went tonneau shopping - SVCustoms gave me a SCREAMIN' deal on a new tonneau!! I was going to wait a month or so before the weather started to turn, but the deal was so good I couldn't say no. Amazingly, my wife didn't give me an ounce of grief over it - just over me dying to rip out the factory stereo and replace it with my own creations
Did I mention that I design and build hi-end home theater and hi-fi speakers for a living? Yes, the stock stereo is WAY under par for my liking and will soon be meeting my friend, Hefe, the 12 gauge... I just need to take a day to pull out the factory paper plates, er... speakers, fab up some adapters, then mount my new drivers, measure, design, implement a xover, then test somewhere til I'm satisfied. I was going to keep the factory HU and just use a LOC from AudioControl because I like the hands free calling and steering wheel controls, but a new double din Pioneer DVD might find it's place... But that might be a while.
Besides the fact that the stealship is driving me nuts, I'm liking the truck so far. A few gripes are that I feel completely lied to about the truck having a limited-slip in the back, as well as the transmission behaving "clunkily" when the A/C is on and some valve train clatter @ 2k RPM - especially when engine breaking down a hill. Otherwise, 401 lb ft of torque usually keeps me in a decent mood. Oh, and the rocket ship feeling that I was pleasantly surprised with when passing a few vehicles on a two lane road through the mountains. [Foot planted on accelerator starting at 45 MPH. 3 seconds later...] "Dear, I think you're going a little fast". "Yea, you're probably right honey. [I glance at the speedo; it says 90 MPH]. Wow! I'm going HOW fast...?"
Overall, I'm liking it. Glad I found the forum! Now, if only I could fine some "How to.." stickies and some real mods... (supercharger, you will just have to wait for me in my dreams...)